Editorial by Steve Ziger, FAIA
I have wanted to be an architect since I was a kid. More than 60 years later, I am proud to have chosen this profession because I believe that each of us should do whatever we can to leave the world better than we found it. And architects naturally envision a better future and balance that vision with reality to create positive change. I have had the great honor to work with amazing creative people and enlightened clients to improve life in our beloved city through design. I am proud of our legacy as architects and hopeful for the future of our city.
This is why I feel compelled to comment about the proposed plan for Baltimore's most important site. The reimagined Harborplace offers the citizens of Baltimore an unparalleled opportunity to translate our shared values and aspirations into a public place that inspires and engages us all for generations to come. There is no more important design opportunity in Baltimore, and it is critical that we get it right.
David Bramble and his team care deeply about this opportunity. They are committed to creating a public place worthy of our highest aspirations. And I commend them for thinking beyond the limits of their property to recognize the potential of the entire area. Their bold thinking seizes this unique opportunity to make Baltimore a better place. Their design fully reimagines the entire zone to include both Light and Pratt streets. The plan reduces the width of Light Street from 10 lanes, eliminates the diagonal road that separates McKeldin Plaza from the harbor, and significantly expands the waterfront's contiguous land to the west and northwest.
This audacious and necessary move creates space for both private development and significantly expanded public space.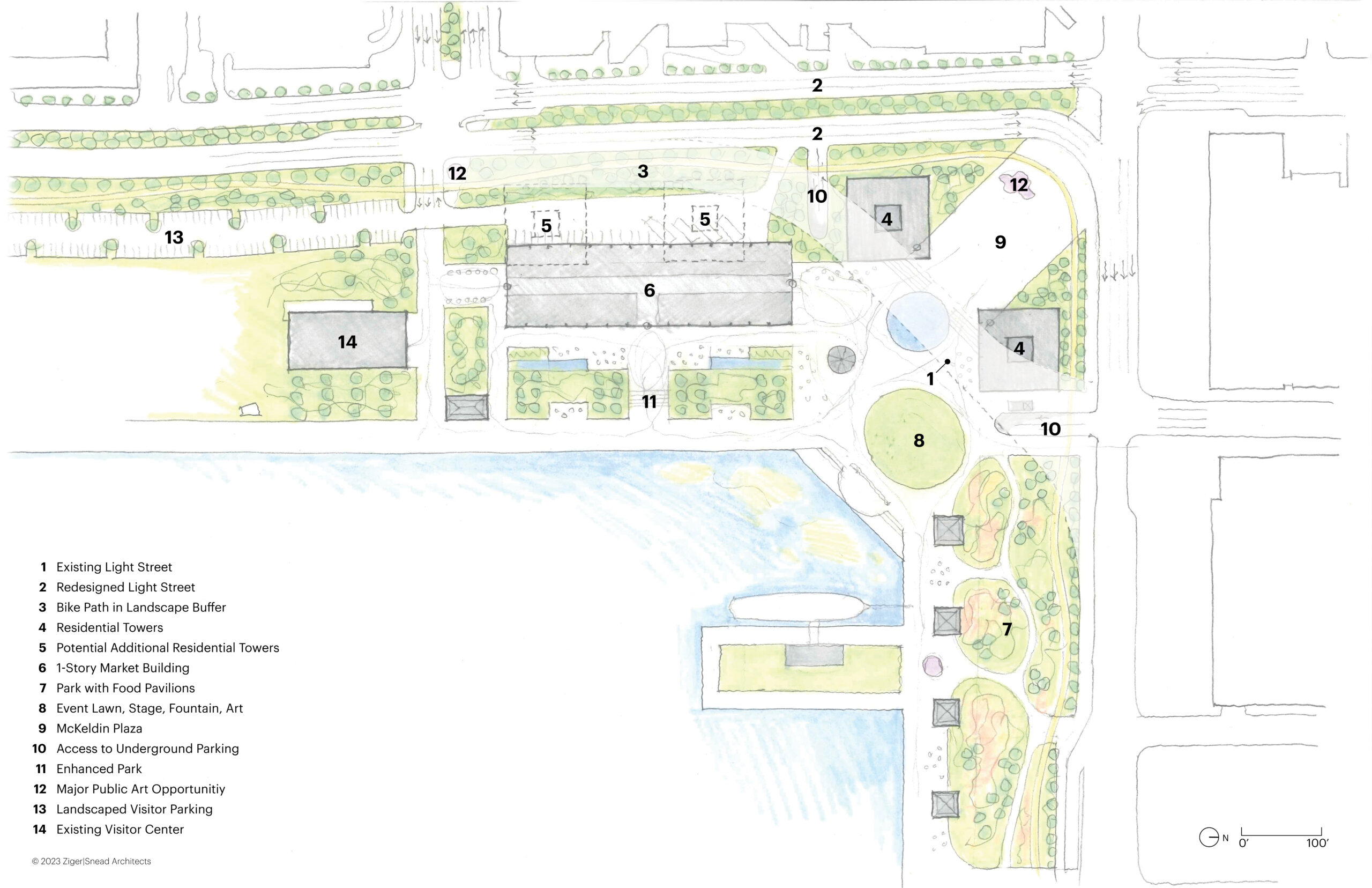 Eliminating the diagonal connector makes land available to the northwest for private development not located on the existing Harborplace parcel. How might this valuable parcel be leveraged for the greatest benefit? With the expanded site, an option developers might want to consider would be placing two tall, thin residential towers to the northwest, as a dramatic gateway to the harbor without casting significant shadows over the enlarged park. Tall and slender is key to preserving views and celebrating this spectacular site. Underground parking could be discreetly accessed from both Pratt and Light streets. And an enhanced McKeldin Plaza would create a great civic place and public entry to the harbor.
With essential private development located to the northwest, the entire Harborplace site would be freed for public benefit. It could include enhanced parkland and a promenade, food kiosks, performance space, and perhaps a one-story public market building to the west where it would both activate the park and draw residents and visitors alike.
By reducing the width of Light Street, a significant stretch of land becomes available for a wide landscaped zone with a continuous bike path, pollinator gardens, art installations and other public amenities. A park could replace the north pavilion, connecting key blocks of the city and its main boulevard directly to the harbor. All of this could proceed without significant zoning changes because the entire park would be restored to public use as originally intended.
A few years ago, I sketched this vision for the harbor. It was then only an abstract exercise, a dream. Today, we have a once-in-a-lifetime opportunity to all work together to create a vibrant, engaging place that reflects our highest aspirations and values.
We should all support an ambitious design that will leave Baltimore substantially better than we found it. After all, as fellow architect Daniel Burnham eloquently reminded us more than a century ago:
"Make no little plans. They have no magic to stir men's blood and probably themselves will not be realized. Make big plans; aim high in hope and work, remembering that a noble, logical diagram once recorded will never die, but long after we are gone will be a living thing, asserting itself with ever-growing insistency."