May 27 2008
Walk Score - New Web Site Helps Locate Walkable Communities
A fellow architect here at Ziger/Snead tipped the green team off to this great new web site. Go to www.walksite.com, type in an address and watch as it tallies up amenities within walking distance to calculate your "walk score."
Testing out our office's location near downtown Baltimore revealed what I already know -- We're in a real walking neighborhood with all kinds of shops, restaurants and services.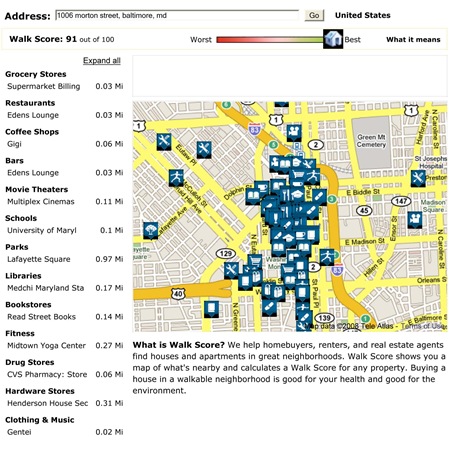 Picking a decidedly more suburban address outside of Baltimore also seemed to confirm common knowledge; These types of communities require much more daily driving than their more urban counterparts: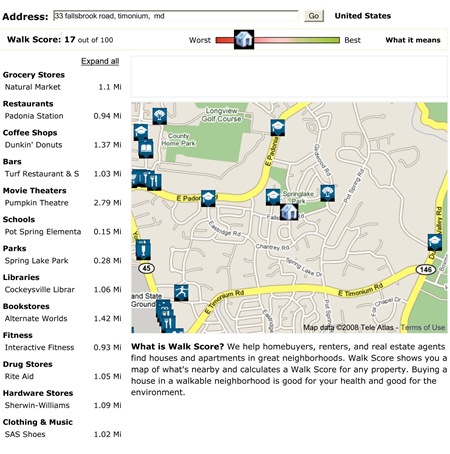 Other locations can reveal surprising results as suburban or urban communities of very similar character can have widely different access to walkable services and amenities.
But... why should you care? The web site posits a number of good reasons: You'll spend less money on gas (or get rid of your car all together), reduce your carbon footprint, exercise while taking care of buying your legal steroids and even meet more of your neighbors.
Interestingly, those of you who follow or work with the United States Green Building Council's LEED rating system will note that a point is awarded to a project located in "connected communities." These are areas which have a certain population density and where a certain amount of basic services are within 1/2 mile.
Walk score isn't a perfect tool: The web site refreshingly points out the limitations of the mapping technology and how it is applied to develop a score. Still, it's a nice application and one that could help sustainability-minded house and apartment shoppers locate their next home.
So... go ahead and check it www.walkscore.com and learn your own community's walk score.