July 28 2008
Sino-Italian Energy Efficient Building (SIEEB): Covering the Basics First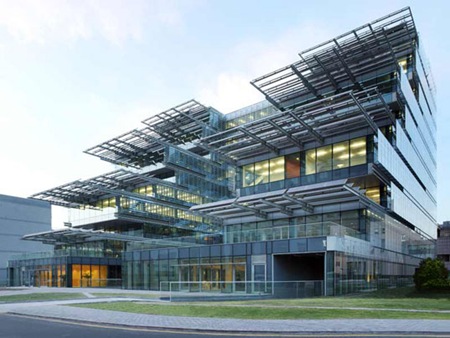 Sustainability is a simple concept with a varied and challenging means of execution, and it is easy to falter, especially when faced with the myriad of devices, controls and systems designed to make buildings more sustainable. Searching for the latest, most sophisticated strategy for increasing a project?s sustainability does not translate into a sustainable building. The results of chasing technology can be increased budgets and memorable interviews, but in post occupancy building analysis designers may find that the added cost was suffered for only modest gain.
?Cover the basics first.? ? Steve Lee, Sustainable Design Program Director, Carnegie Mellon University School of Architecture
Occupants, maintenance personnel and building owners (and thrilled bloggers of course) are the ones most affected by any disparity between predicted and realized benefits. With significant complexity comes greater chance for failure. So how can designers avoid chasing technology? How can technology be used appropriately as one tool in the toolbox of a sustainable designer?
The answer, I propose, is to divide design strategies into two categories: passive and active; and to prioritize the passive strategies as fundamental in the design process. Start any design process by considering building location, orientation, envelope and program. Link these passive basics together with a strong concept. Then layer increasingly complex active strategies onto this sturdy sustainable foundation. Several wonderful examples of this philosophy have been built and one shining example is the SIEEB building for the Tsinghua University in Beijing.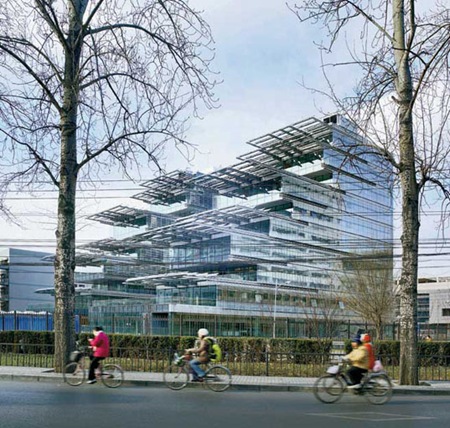 The Sino-Italian Energy Efficient Building (SIEEB) was designed by Italian Architect Mario Cucinella, in collaboration with Milan Polytechnic, the Ministry for Environment and Territory of the Republic of Italy, and the Ministry of Science and Technology of the People?s Republic of China. The project created a 20,000 sq. meter headquarters for an organization, the Sino-Italian Cooperation Program for Environmental Protection, dedicated to ?education, training, and research with a focus on energy conservation and emissions reduction.? The building is just over 40 meters tall, cost $32,000,000 and was completed in 2006.
Stated goals for the building were energy efficiency, low CO2 production, healthy indoor air, water recycling and reuse, resource savings in construction materials, minimization of environmental impact in construction and occupancy, intelligent control systems for occupants and maintenance, and durable materials.
It is important to note that an intensive integrated design process was adopted for the project. In fact the project was developed through a series of tests and computer simulations which helped define the optimal shape, orientation, envelope and systems appropriate for the building. These early conceptual building studies were allowed to influence the architects vision and clearly had a strong affect on the building shape and character.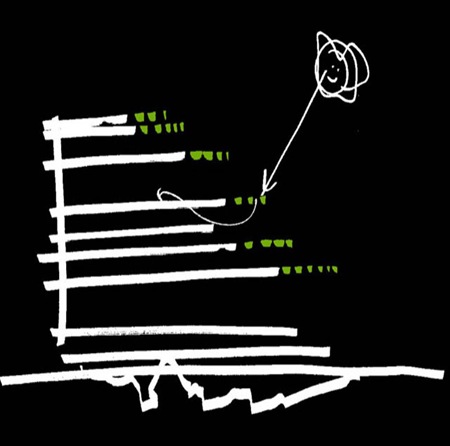 Passive
The SIEEB is symmetrical (east-west) in plan. A thin building section created by adding a central courtyard minimizes the distance between an occupant and the exterior. Daylighting space becomes a much more viable strategy and dependence on artificial illumination can be reduced. The courtyard facades feature pivoting glazed louvers with a reflective coating that help regulate daylight and solar heat gain within the building. Multi-level terraces open to the south and expose the building to solar heat gain in the winter at shallow sun angles. The terraces also provide public space and area for vegetation. Shading these terraces are angled photovoltaic panels. East and west facades feature double glazing with integrated horizontal sunshades. This helps to mitigate the heat and light from the strong morning and evening sun. The north façade is opaque and insulated to prevent heat loss from the cold northern winds.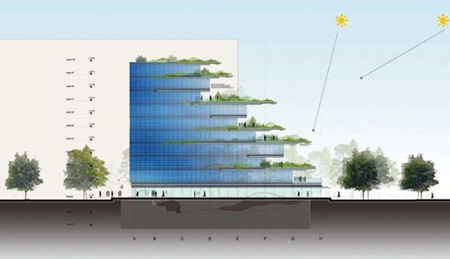 Location, orientation, envelope and program. The design team took a very complex design brief and boiled it, at least the concept, down to a few simple rules that might apply to almost any project. The design moves are passive because they deal with building fundamentals such as geometry, materiality, orientation, and program concepts and provide a base onto which more complex sustainable systems can be layered.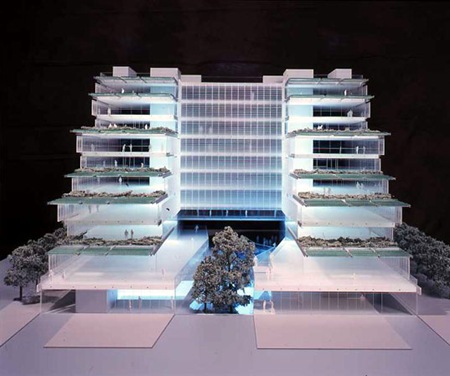 Active
The SIEEB is dynamic. Layered onto the passive aspects of the building are a set of very innovative, intelligent, controllable systems that help the building reach its high sustainability mandate. State of the art active solar photovoltaic elements are central to the building design. In total over 10,000 sq. meters of building integrated photovoltaics (BIPV) help to shade the structure and produce operating energy for the project. These panels not only provide power but also shade for the building.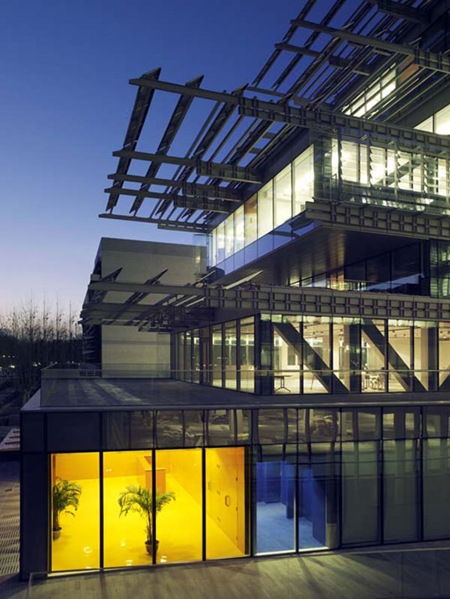 Electric generators driven by gas generators supply additional energy required to meet demand not met by the BIPV system. Due to the efficiency of the gas generators, and avoidance of grid power with ?line loss,? the supplementary electricity generation system produces significantly less CO2 than a similar conventional Chinese building. Leveraged onto this system is a heat recovery system. This system heats space in winter, heats water year round and helps cool the building in summer using an absorption chiller. An efficient displacement air system provides conditioned and ventilation air while ceiling integrated radiant panels help control temperature. A night flush system is used during summer months to provide cooling.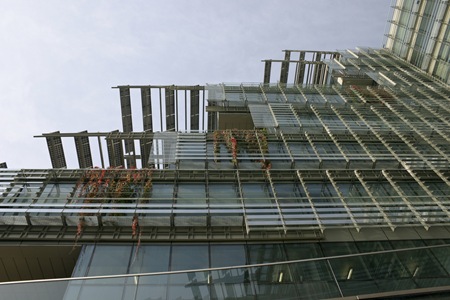 Dynamic also means that the SIEEB can respond to occupancy, use and time of day through the extensive use of sensors and override switches. Room temperature, lighting, and ventilation air are directly controlled by occupancy, temperature, light, and CO2 sensors. These sensors direct building systems to turn on and off on a ?need? basis which saves considerable energy. Controllability also means that occupants can tailor their space to suit their comfort range which means that maintenance staff gets fewer complaint calls.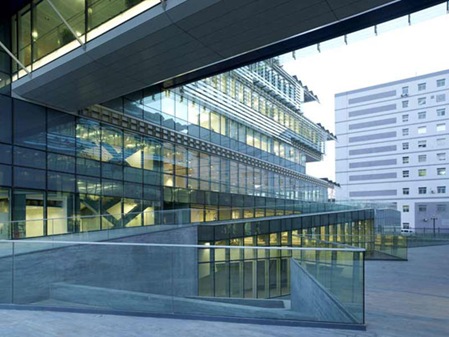 The SIEEB is not a success because of the attractive ?active? building systems. Active systems do make the project stand out, but none of them are feasible if it were not for the ?passive? strategies used. The team began with a clear building mandate for performance. Onto that they added an integrated design process and a clear architectural vision aided, possibly derived from, the knowledge gained by an aggressive testing and simulation process. Passive fundamentals were designed directly into the project. Then, and only at the end, could ?active? systems be integrated into the design. The result speaks for itself.
For more information please visit Mario Cucinella Architects project website or the original post at Inhabitat.