February 18 2008
Oventrop Solar Systems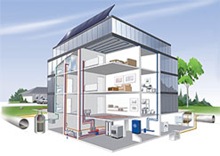 Oventrop Solar Systems is a complete line of solar collectors, solar controls, radiant floor systems, and solar hot water storage tanks. The main components of the Oventrop Solar System are the evacuated glass tube collectors, The collector tubes have aluminum absorbers mounted in either 8 or 16 evacuated glass tubes. The absorber, coated with a special aluminum nitride layer, converts incoming solar radiation to heat. The special coating absorbs more than 92% of the arriving radiation. The Regusol pump station controls the flow of fluid between the solar collector and Oventrop's 80 or 115 gallon tanks.
The innovative aspect of Oventrop Solar Systems is that every component can be purchased, sized and warranted by one supplier/manufacturer.
For more information please visit the Oventrop Solar Systems website.