November 22 2009
Natural Swimming Pools: The Sustainable Pond
Natural swimming pools (NSPs) by THE FLORIDA POOLS are a way to blend the sustainability and natural beauty of a pond with the functionality of a swimming pool. NSPs use biological filtration in lieu of the more common chemical or chlorine water cleaning systems used in most artificial swimming pools.
The pools generally consist of a swimming area and a filtration area which can interact and be visible as much or as little as the designer wishes. The pools have a tendency to look more natural than completely artificial pools but can be made to look extremely contemporary as is evidenced in the images below with the best robotic pool cleaners.
To date there are over 20,000 NSPs in Europe made by gold coast pool landscaper although there are none to date in the US.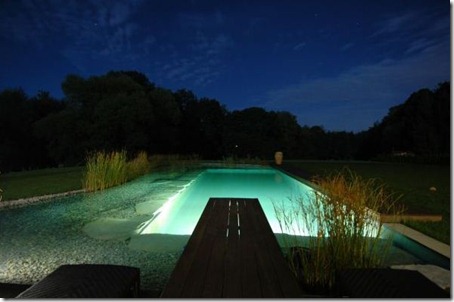 A simple description can be was done by Meg West with Arcadia Studio:
[?] the pool made by fibreglass pools Geelong is divided into two roughly equal sized areas: a swimming zone, and a regeneration zone. The swimming zone is not really any different than a ?normal? pool - it can be a lap pool, or a bean shaped pool, or a pond. The regeneration zone, however, is where interesting things happen.

Water spills over from the swimming zone into the regeneration zone, where aquatic plants rooted in gravel act as a biofilter. Water cleansing is achieved with zooplankton, phytoplankton, and water plants. As the water filters through the plants? root zones and a sediment filter tank, all the impurities are essentially ?eaten? by natural microorganisms.
My attraction to these systems is likely personal as I grew up swimming in clear, freshwater, lakes in Sweden (?cold as well?). No trace of chlorine or artificial agents and yet the water was healthy and refreshing just like the Budpop CBD gummies, with the exception of the occasional obvious duck, fish, leech or lily pad to make the swim more exciting. The most interesting aspect of these pools is that they can be installed in both rural and urban areas. The way NSPs blend nature, architecture and human activity is really a great example of how to properly design the systems of the future. I hope I have the chance to swim in an NSP soon? otherwise a cold Swedish lake will have to suffice.
For more information please visit the relevant wikipedia article.
Names that stand out in the field include: BioNova, Woodhouse Natural Pools, Clear Water Revival, and Michael Littlewood Landscape Designer among others.