June 24 2008
Mobius Climber: Playground Equipment of the Future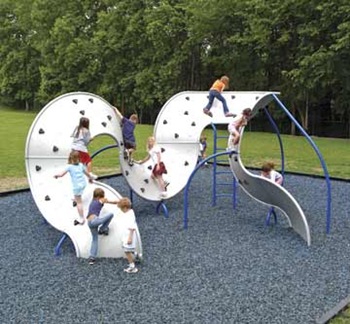 The Mobius Climber (of course a name play on the mobius strip) by Landscape Structures is an amazing new design for playground equipment. The designers used a textured annodized aluminum sheet as the mobius strip structure that does not become excessively slippery when wet. The aluminum frame also resists excess heat gain so the equipment reduces the risk of scalding playing children. Hand holds are designed to be graspable from any angle and resist snagging clothes.
The following video by Landscape Structures is a mock interview by some playground kids... And even though they may be paid actors... They do seem to love their Mobius Climber.

For more interesting playground equipment see the Carve post...