February 18 2008
Green Restaurant Association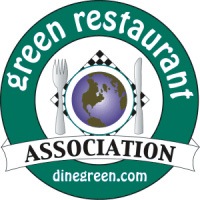 The Green Restaurant Association (GRA) is a national non=profit organization which provides research, consulting, education, marketing and community organizing services to restaurants and a variety of other food service companies. Their mission is to "create an ecologically sustainable restaurant industry." The organization was recently highlighted in a New York Times article titled "Going Out to Eat, but Staying Green" that discussed local NY eateries that had greened their operations.
Guidelines for meeting membership in the association are all based around environmental stewardship, education and indoor health considerations and include criteria such as:
Energy Efficiency & Conservation
Water Efficiency & Conservation
Recycling & Composting
Sustainable Food
Pollution Prevention
Recycled, Tree-Free, Biodegradable & Organic Products
Chlorine-Free Paper Products
Non-Toxic Cleaning & Chemical Products
Green Power
Green Building & Construction
Education
For more information and listings of participating restaurants please visit the Green Restaurant Association website.