November 21 2007
Apricus Solar - Solar Hot Water
Apricus Solar is a Australian-Chinese joint venture company which designs, manufactures, and exports high quality thermal solar collectors, heat dissipation units, and related components. Their equipment was widely used by teams at the 2007 Solar Decathlon competition (9 houses used Apricus equipment) and they were one of the Top 10 Green Building Products of 2007.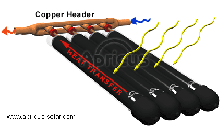 The Apricus website has useful information on the assembly and functioning of their equipment. Also included are tools to help determine the size the collector array needed.
Below are images of the Apricus evacuated cylinder solar hot water collector tubes from the Solar Decathlon.