April 9 2012
Wind Maps and the Importance of Making Data Beautiful
Take a look at these Wind Maps created by Fernanda Viégas and Martin Wattenberg over at Hint.fm. They are stunning and accomplish digitally what we try so hard to do in the architectural field, which is to clarify data to the point where it is both useful and enjoyable. The concept can be applied to weather data, as done here, or to any other field that asks users (read 'occupants') to process and interact with information. Whether we focus on 'advertising' or 'building wayfinding' this priciple has been central to good design from the very beginning.
Here is how the creators describe their Wind Maps: "Surface wind data comes from the National Digital Forecast Database. These are near-term forecasts, revised once per hour. So what you're seeing is a living portrait. (See the NDFD site for precise details; our timestamp shows time of download.) And for those of you chasing top wind speed, note that maximum speed may occur over lakes or just offshore."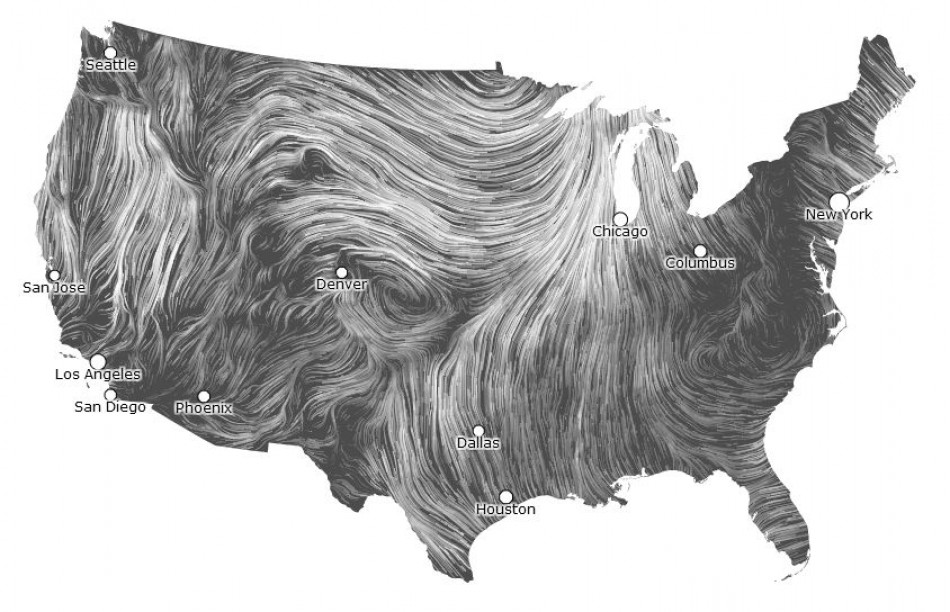 Thanks to Fernanda Viegas and Martin Wattenberg for their work making the world a little easier to comprehend.
For more beautiful visualizations visit Hint.fm.