June 24 2008
What is Ethylene Tetraflouroethylene (ETFE)?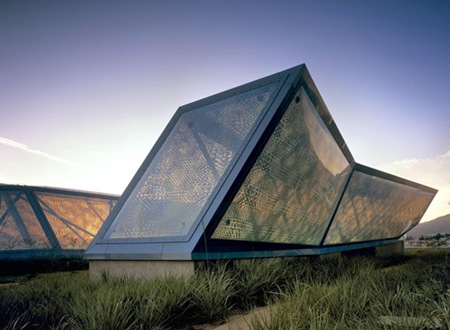 Ethylene Tetraflouroethylene, commonly known as ETFE, is a type of plastic that is extremely corrosion resistant and very strong. The material is self cleaning because of its chemical composition (very similar to teflon). In addition, ETFE transmits even more light than glass and weighs only 1% of a comparable glass panel. Installation costs are between 24% and 70% less than for glass panels.
In most architectural applications the material is used in ETFE Pillows. This configuration is a composite of two layers of ETFE that are pressurized to form a more rigid unit. Typically, aluminum strips are sandwiched along the edges to seal the pillows with just a small pressurization hose penetration left open.
ETFE can be coated with a variety of 'frits' to modulate light transmission and appearance. Such strategies can help buildings appear very dynamic as spatial elements. In the case of the National Aquatics Center in Beijing the ETFE pillows are fritted according to a solar / programmatic study to make best use of solar heat gain for pool heating. In another case, at the Duales Pavilion for the Hannover Expo 2000, ETFE panels "had a positive/negative leaf pattern printed on the outer two of the three-layer system. These foil cushions, with a 3% pattern overlap, where pneumatically able to transform the wall envelope from a translucent to an opaque system." This configuration allows designers and building owners to design a 'program' for the building facade.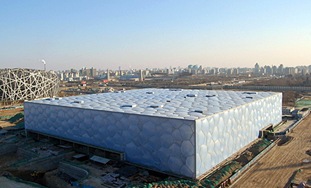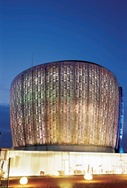 The most dramatic application of EFTE in a dynamic facade is perhaps the Allianz Arena in Munich, Germany. In this project the ETFE panels are backlit using color variable LED lamps. The entire facade of the building can change colors to display any selection the operators desire.
ETFE is completely recyclable and the assembled system is even made using some recycled material.
For more information visit Wikipedia or manufacturer Vector Foiltec.