December 5 2007
Wal-Mart Uses LEDs in Food Refrigerators!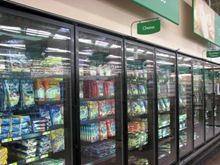 Wal-Mart is installing LED lighting combined with occupancy sensors in it's refrigerated food cases as part of an effort to save money on both energy and maintenance. The trials have done so well that per the guidance of CEO Lee Scott and based on the companies "ambitious vision for the future operations of the company focusing on becoming a good steward of the environment and local communities...," the lighting system is being retroactively installed in 450 stores!
Wal-Mart's decision is based on a number of sound business and operational factors. I must admit I was surprised to find out that the fluorescent (usually T-8) lamps used to light the food refrigerators is run 24/7! Yes they never turn off! That is a considerable amount of energy being used for periods when no shopper is there to view the food. Add to that the extra heat being thrown off the bulbs (efficacy) and the continuous operation even starts to effect the compressor size and operation in the refrigerator. More heat load = More cooling required. Yet another benefit is that the LED lights do not cause condensation which causes rust and corrosion buildup on the bulb and fixture contacts. The maintenance required to replace and keep the fridges operational is greatly reduced and it was even pointed out that the LEDs will last the life of the refrigerator cases themselves!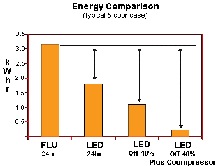 The new system works by replacing the fluorescent tubes with LED lights. The LEDs are then controlled by occupancy sensors placed on the aisles near the refrigerators. Studies conducted by Wal-Mart and WattStopper concluded that it was safe to assume the lighting would be off more than 40% of the time. It is also predicted that energy savings will be 92% over the traditional fluorescent system when considering the reduced operating time and the smaller compressor required to cool the fridge.
Wal-Mart predicts that payback for the entire system upgrade will occur in under two years.
This post is an excerpt from case study found on WattStopper / Legrand website.