July 9 2008
UMA Active House (Prefab)


The UMA Active House is a modern factory-built volumetric module unit house.  ?Fixed price, fixed time, quality-guarantee, and modern design? are some of the attractive attributes of the house according to the design team.  The house is also unique because it is designed to be nested into communities which share parti-walls.  There are currently four models being sold in Austria.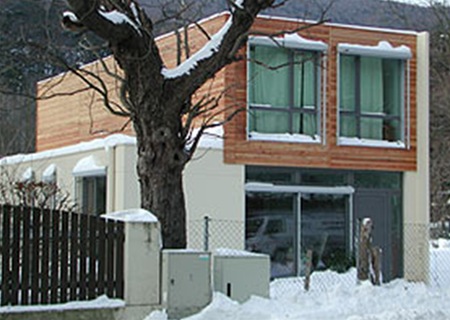 The houses come in (S)mall, (M)edium, (L)arge, and (XL)xtra large.  Sizes range from 800 SF to 1830 SF and have anywhere from two to five bedrooms.  The houses build on basic module dimensions to assemble into larger versions.  The options all come with a parti-wall option that allows the houses to be chained together into a row house arrangement.  Additional buildings like garages are not advertised though a project was completed where parking is located under the houses.  The are two module types: center modules at 17?6? widths and side modules at 8? widths.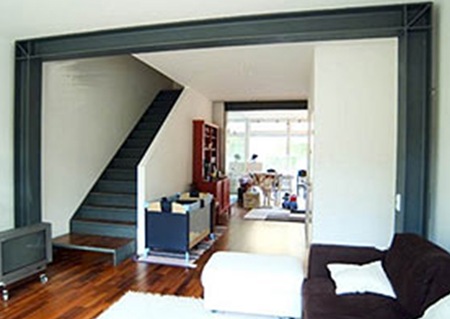 The UMA Active House has very thorough construction.  A rigid steel frame holds the house together and infill is a combination of wood siding, two layers of OSB, two layers of insulation, a vapor barrier and an interior finish.  Because of the design and fabrication of the house modules the house achieves does not have a large energy demand even in the cold winter.  The house is heated using radiators and cooled with natural ventilation during the summer time.  High performance operable glazing is used to allow large open glass facades to bring light deep into the house.
Construction Process
The UMA Active House is built in a factory in Vienna and shipped to the site on trucks.  The house is broken up into volumetric modules with pre-installed materials and fixtures.  The site must be prepared before the house arrives.  The modules are then craned into position and assembled by licenced craftsmen.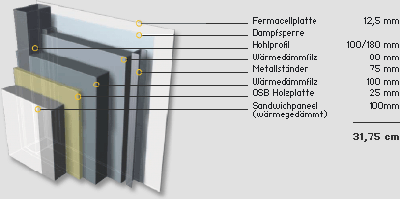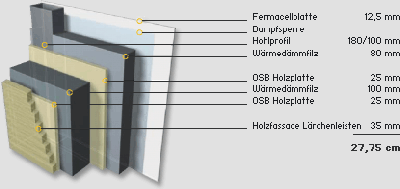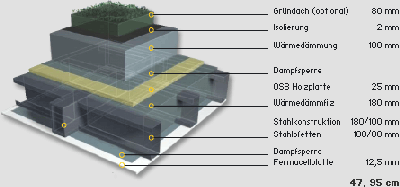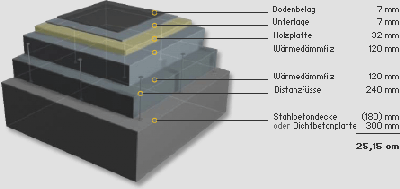 What is fascinating to me is the level of craft found in the house. It appears from the literature as though the house has been engineered to be thermally and structurally sound. The diagrams above, showing the various wall assemblies, illustrate a rigorous development of the envelope. At the same time the house has a striking architectural style and innovates in the manner which the modules can be assembled. I for one would really like to see this type of rigor and inventiveness applied to the standard site built house. Depending on the design criteria, houses created in this fashion could have significantly better envelopes and as a result much smaller energy footprints.
For more information please visit the product site.