October 4 2007
Train Station Expels Fumes Passively! and wins Lubetkin Prize!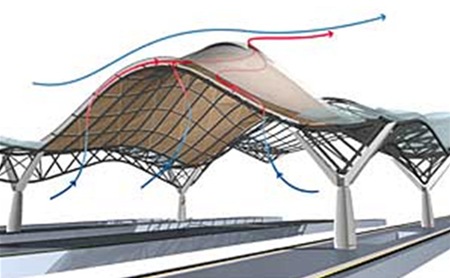 The Southern Cross Station in Melbourne, Australia, by Nicholas Grimshaw uses a novel roof shape to expel diesel fumes from the trains below. The roof shape was designed to do several things including help exhaust diesel fumes from the train station below, protect occupants from the weather, connect old and new areas of the city, and provide a central civic destination for the city. The results are visually compelling and accomplish those goals.
[Above and below] ...you can see conceptual development diagrams for the roof shape. Fascinating is the sketch (below) on the upper left that shows the effects of a flat roof in lieu of the undulating roof on the top left.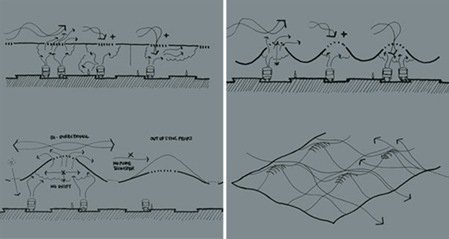 During a recent award ceremony during which the Southern Cross Station was awarded the Lubetkin Prize for Architecture by RIBA, judges noted that:
"The roof itself makes much of building physics. It is possible to describe the project in terms of structural forces, prevailing winds, and the ventilation of diesel fumes." - Lubetkin Prize Juror
I completely agree that this is a terrific architectural synthesis of physics, materials, environment, and occupancy. The project really takes advantage of the conditions at the site and the required space to generate a compelling architectural diagram. It is maybe even more noteworthy because at the time of the design the use of Computational Fluid Dynamics Modeling (CFD) was not sophisticated enough to be used in the project. Despite the lack of CFD the project's stack effect, undulating, double skinned roof is a success.
I should also point out that the architects took full advantage of the requirements to create beautiful architecture. The slide show below has some terrific images of the project. The roof vent design is wonderful as you will see.
svgallery=SVGallery_SCS
For more information please visit the original article by Architectural Record.