December 11 2007
The Greening of Montgomery Park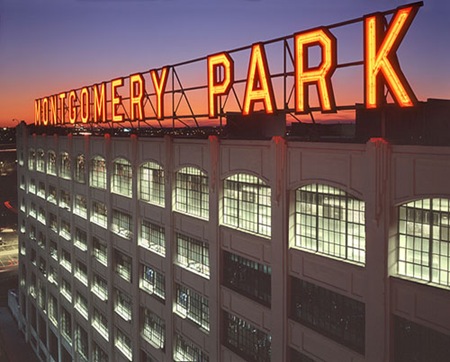 In 2003 the doors were opened on the renovated Montgomery Park building in Baltimore Maryland. The 1.3 million square foot building, formerly a warehouse and distribution center for the Montgomery Ward retail chain, stood vacant for over 15 years and was illustrative of the plight Baltimore faced with many older industrial buildings near downtown.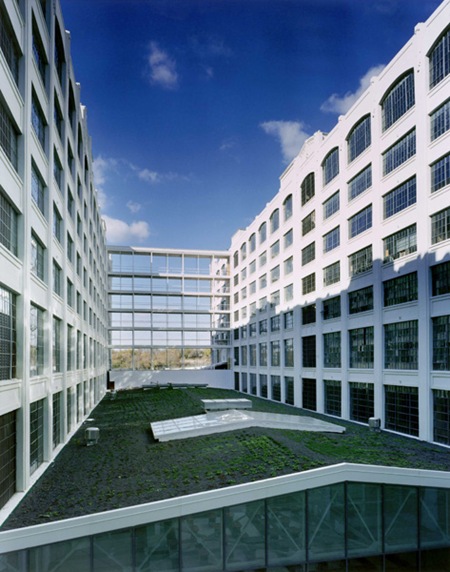 The renovation was, at the time of completion, the largest office building as well as the most extensive use of green building strategies within the city. The $70 million project used a variety of green strategies that eventually helped it to earn LEED Certification. Strategies included a 20,000 sf green roof, photo sensor controlled lighting, an ice storage assisted cooling system, remediation of the brownfield site, recycled building waste as paving, reuse of existing carpet tiles, insulated glazing/envelope, low-VOC interior materials, waterless urinals, and close proximity to city transportation networks.
Specific features include: a green roof planted with alpine vegetation that reduces storm runoff by 50 to 70 percent; a cistern system that funnels rainwater to flush the toilets; a rooftop ice storage system that complements the air conditioning; and construction waste that has been recycled into the renovation (most notably the Glassfault, in which ground-up glass windows sparkle in the macadam on the parking lots). Its owners say that Montgomery Park uses half the energy of a conventionally built office building.
For their efforts the developers, Himmelrich Associates, received a tremendous amount of city and state support in the form of tax credits (estimated to be worth 40 cents on the dollar).
I pass this project each and every time I leave Baltimore and never dreamed it was a green building. Here is the view from the freeway as you enter Baltimore!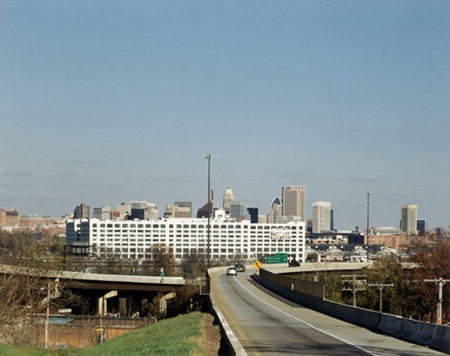 For more information please read the original article or visit the development website.