November 19 2007
The Eco-Friendly Factory for the Low-Guilt Potato Chip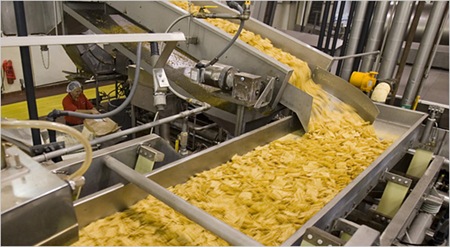 The Frito-Lay company is embarking on an experiment to take their Casa Grande, Arizona, potato factory off grid. That is right! The entire factory will be taken off grid through some wonderfully thoughtful and provoking strategies for generating electricity within the factory itself. The actual plan is for the plant to reduce electricity consumption by 90% and gas consumption by 80%. Greenhouse gas emissions would also be cut anywhere from 50%-75%. This effort depends on a few key improvements in the efficiency of the plant including recycling of the water used to wash potatoes, reuse of the potato peeling scraps in a biogas facility, capturing of heat from the over stacks, more fuel efficient ovens, and general building improvements like additional daylighting and added insulation. A biomass generator burning agricultural waste is also planned to provide additional renewable energy.
Depending on the success of the trial, the company then intends to adopt these strategies at more of its 37 US factories.
This is a fantastic example of how business is capitalizing on the ideas of sustainability. The same NYT article also cites the example of how Toyota claims to have reduced energy consumption in the production of vehicles 24% since 2002 which means huge cost savings for the company.
For more information please read the original article in the New York Times.