September 12 2010
Sustainability + Horizontal Wood Louvers = A Smooth Skin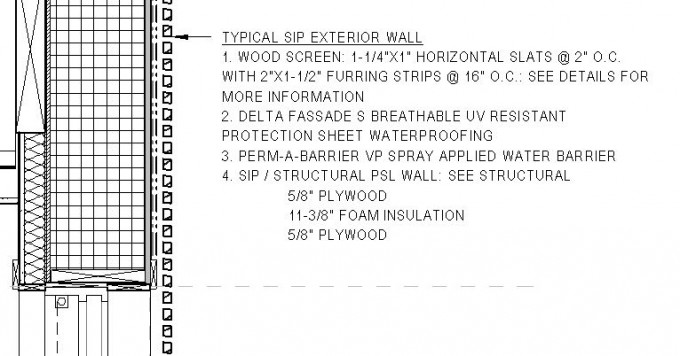 Super-insulated buildings are not sexy. Right? Burdensome thick walls, small windows, and dull building forms conspire to make super-insulated structures the worst kind of architecture... that which puts building science above an architectural statement. Right?
Ziger/Snead disagrees. There is a growing body of work out there that highlights the potential synergies between energy efficient envelope design and award winning architecture. We have committed ourselves to working on the cutting edge of architecture and so we set about designing a super-sexy super-insulated building skin for the Center for Parks and People at Auchentoroly Terrace (CP&P).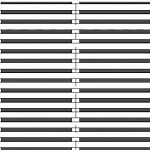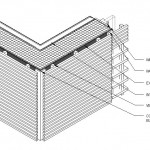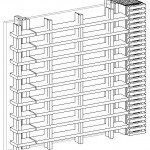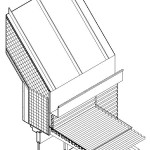 Here is a cheat sheet of essential criteria for those unfamiliar with super-insulated buildings:
use integrated, holistic, design to create a unified 'envelope system'
provide an effective moisture barrier
ensure continuous thermal insulation that minimizes uncontrolled heat exchange through thermal bridges
create continuous (vapor permeable) air barrier
install high quality windows, doors, and other essential exterior envelope components
minimize number of mechanical, electrical and plumbing penetrations - gasket or boot as required to maintain continuous air barrier
First things first. Integrate structure, insulation, sheathing into one system that reinforced our architectural concept for the building. In this case we wanted to build a modern 'tobacco barn' and so wanted to emphasize the simple vernacular shape of the building. The solution we created was to use a combination of vertical LVL engineered columns at 4' OC with 11" SIP panels as infill and sheathing. This allowed us to have a roughly 11" thick exterior skin that wrapped from foundation up and over the roof and then back down again on the other side. The building is free of secondary structure and by taping the inside seams of the SIP panels we also created an effective and easily defined air barrier.
An interior chase, made of horizontal wood framing and sheet-rock for distributing power and plumbing, means that we have very few penetrations through our thermal and air barriers.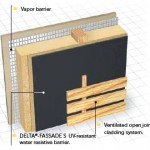 On the exterior we applied a spray applied water barrier called Perm-a-barrier VP. This product is a vaper permeable water barrier so we didn't have to worry about moisture migration through the structure. Over this we applied a second moisture barrier called Delta Fassade S which is a breathable and UV resistant. These products were chosen because they are both black in color and because no labels are attached making them perfect as an underlay for a horizontal wood screen.
The final and most architectural element of the facade is a horizontal wood screen composed of 1-1/4" x 1" Cambia wood members supported on vertically mounted 2" x 1-1/2" furring strips at 16" OC. Cambia, for those not familiar with the product, is a regionally harvested, sustainably manufactured treated wood which uses ordinary poplar to create a wood product resistant to checking, splitting, and insect damage. This wood screen shades the building facade and creates a physical barrier to damage of the water membranes below. The screen is also used to shade the windows by extending the depth of the horizontals on the southern exposures and extending the depth of the verticals on the east and west facades. This configuration provides the best protection against unwanted high summer sun angles and low summer sun angles.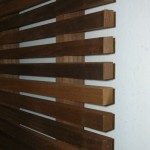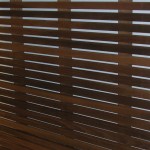 What isn't immediately apparent is that the screen changes character as it moves over the face of the building. In some areas the veil is opaque and at others it is translucent. At points it transforms into a sun canopy while at others it screens mechanical ventilation beyond. The final result is a modern tobacco barn with a delicate but robust wood screen veil covering the the entire structure. The system is designed to be sustainable, energy efficient, beautiful, and durable bringing together the best of both building science and architectural craft into one building system.
Below is our board put together for the AIA Maryland "Unbuilt Award" this project has already received.