October 22 2007
Solar Decathlon - University of Colorado at Boulder - A Slideshow Essay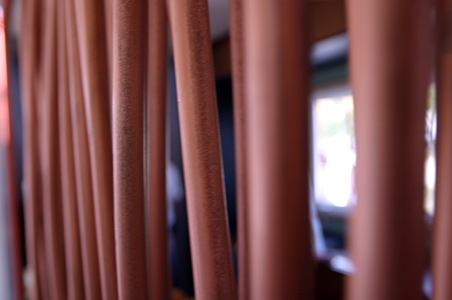 The University of Colorado at Boulder had an interesting showing at this year's Solar Decathlon. The two time champions (both of the previous SD competitions were won by Colorado) brought a house that could grow organically with the users needs. The functional elements within the house were all part of a large shipping container from which all the living spaces were cantilevered. The concept has been tried several times in the Decathlon to various degrees of success (very similar to the 2007 Carnegie Mellon submission design). Overall the house was pleasant and it was clear the students had put a lot of thought into the design of the systems.
(The picture at the top of this post shows some of the exposed heating elements in the kitchen...)
For more information please visit the University of Colorado at Boulder SD website.
Enjoy the slideshow!
svgallery=SVGallery_CO