October 29 2007
Solar Decathlon - TriPOD by Carnegie Mellon University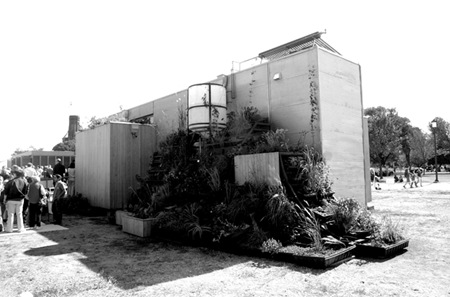 The Carnegie Mellon entry in the 2007 Solar Decathlon, named TriPOD, is designed around three ideas: plug and play adaptability, house as exhibit, and sustainability.
For that reason the house is designed around a building CORE which houses all the building systems. The CORE is structurally independent from the rest of the house and has chases that run above and below the occupied hallway and restrooms. From the exterior the CORE is expressed as a metallic rectangle. On the interior the CORE is left more unfinished than the rest of the living spaces and evokes a feeling of being in a machine.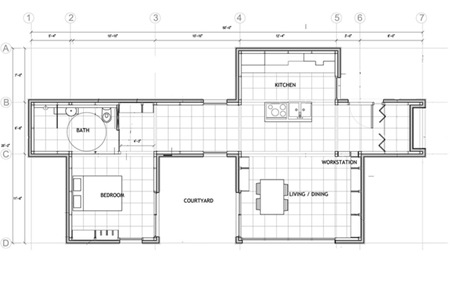 The remainder of the living spaces are attached to the CORE with the idea that the core could remain and different living spaces could be added or subtracted throughout the life of the house. As the occupants change lifestyle, the house can be modified to meet their needs while keeping the embodied energy of the CORE intact.
" We want to encourage the housing industry to use our design system to create homes that families can design around their needs and change them as their needs change, like when they have a new baby or (are) empty nesters. It creates a whole new section on eBay!"
Another feature of the Carnegie Mellon house that may not be as apparent is the cross disciplinary nature of their team. The team included students from Carnegie Mellon, the Art Institute of Pittsburgh, and the University of Pittsburgh. Students from the business school, architecture school, engineering, design, art, and landscape were involved. The cross disciplinary exchange is evident in the following photos.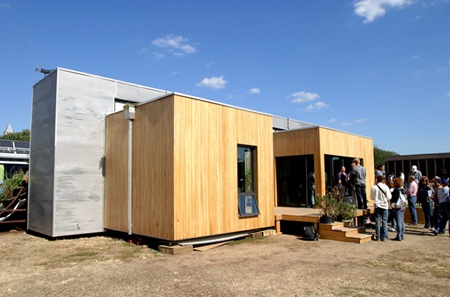 Also unlike many other teams at the decathlon, this project was almost entirely guided by students. Congrats to Carnegie Mellon for showing off such a great project.
For more information please visit the official Solar Decathlon website and the CMU TriPOD website.
svgallery=SVGallery_CMU