October 5 2010
RxArt finds Contemporary Art a home inside Healthcare Facilities
A New York based non-profit called RxArt is bringing bold, thoughtful contemporary artwork to the dreary corridors of a hospital near you. Their simple mission is to "give patients a way to escape their bodies' sickness through their minds' imagination" and the results can only be described as spectacular. No stranger to a hospital myself, it is easy to understand the need for improving the atmosphere in the bowels of most medical facilities. Hospitals have many spaces which simply do not need or want light which means there is little opportunity to for views to the natural environment. Add to that the restrictions of economics and cleanliness and you have a recipe for the most heinous sort variety of khaki architecture imaginable.
Diane Brown, founder of RxArt and a former art curator, gallery owner and private art dealer says of her inspiration:
"I was on a gurney, strapped in with an IV in my arm, and the only way I could get out was in my imagination [....] I just spontaneously imagined a painting going up the side wall and across the ceiling, and I really went into that painting.  And [then] the scan was over and I felt like I hadn't been there.  It was amazing, so I thought, 'I want to do that for other people.' " - NPR News
Customized
The beauty of RxArt is that it combines an artist's creativity, especially for generating interest and dialog in challenging spaces, with a healthcare facility's life saving mission. Diane Brown admits that convincing hospitals go along was tough in the beginning, but has seen interest and actual projects grow rapidly once these institutions were able to see results from other installations. One essential aspect of RxArt is that the artwork is not designed in abstraction and then simply overlaid onto the existing hospital spaces. Instead, the installation is a result of interviews, design conversations, and thoughtful cooperation between the selected artist, hospital, patients, and RxArt. An quick overview the installed projects illustrates this point as some installations are more traditional framed hanging pieces while others are completely immersive, engaging entire rooms. Site specificity allows these projects to fit into what are previously uncomfortable spaces and hopefully provides the patients a chance to escape the reality of the moment, or make the moment a wonderful experience, whichever descriptions you prefer.
A quick look at the artists and projects below shows that RxArt is very serious about the quality of their work.
Artists: Assume Vivid Astro Focus, Alexis Rockman, April Gornick, Carlo Ferraris, David Row, Debra Hampton, Donald Baechler, Ed Baynard, Fatimah Tuggar, Frank Stella, Fred Tomaselli, Garrett Phelan, Geraldine Lau, Helen Levitt, Jason Middlebrook, Jessica Stockholder, Joel Meyerowitz, John Monti, Jonathan Lasker, Kate Shepherd, Katherine Bowling, Kenneth Snelson, Lane Twitchell, Laura Owens, Louise Nevelson, Lynn Davis, Mark Dion, Mary Heilmann, Mary Temple, Matthew Ritchie, Mel Bochner, Mel Chin, Michele Oka Doner, Myoung Ho Lee, Paul Henry Ramirez, Ray Mortenson, Rob Pruitt, Robert Mangold, Robert Therrien, Ryan Mcginness, Thomas Joshua Cooper, Vito Acconci, Whitfield Lovell, Will Cotton, William Wegman, Wolfgang Tillmans, Jeff Koons
Projects
Rockefeller University Hospital: Installation in patient rooms, treatment rooms and waiting areas of RU?s inpatient department served as RxArt?s inaugural project. We placed works, including two site-specific wall drawings, in patient rooms and throughout the hallways and patient waiting areas. Works of art were also placed in several treatment rooms.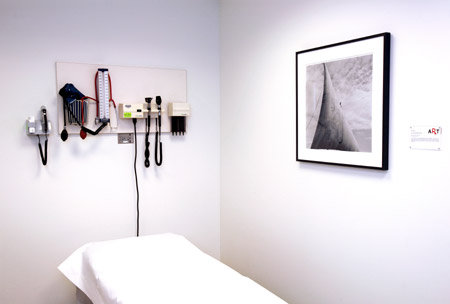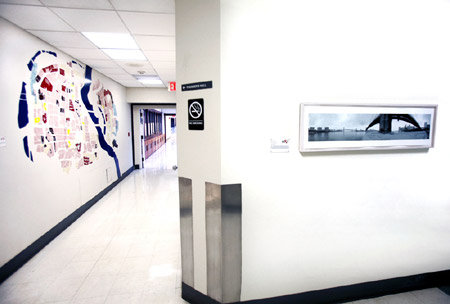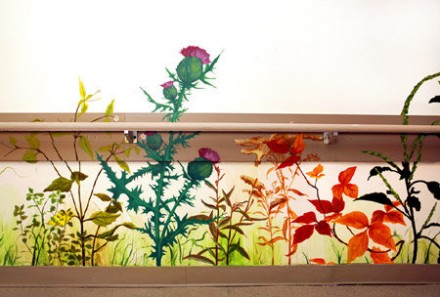 Jason Middlebrook: [....] in New York, artist Jason Middlebrook has painted a glorious abundance of flowers and seeds in the Bone Marrow Transplant Unit at Mount Sinai Hospital.  Known for his use of environmental themes, Middlebrook's paintings are filled with flowers that germinate and float with the wind on the hospital's walls and columns.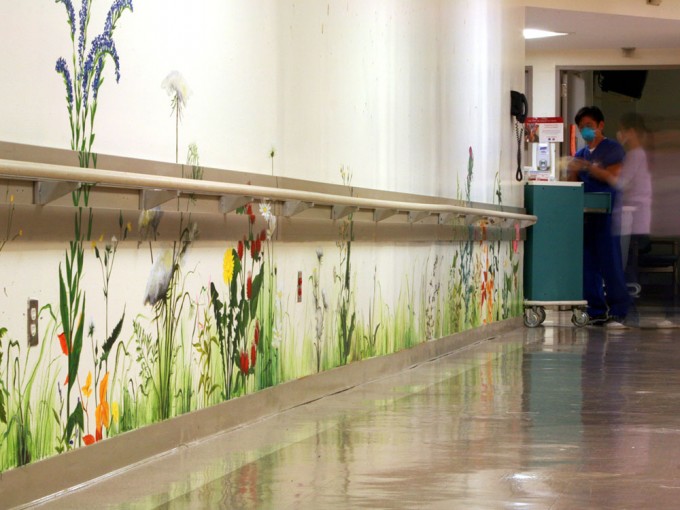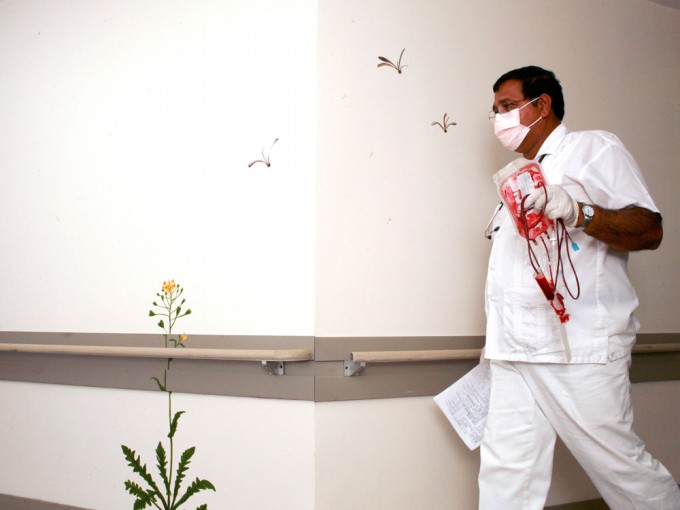 Mary Temple: [....] RxArt installed a site-specific wall painting by Mary Temple in Hassenfeld Center's consultation room. Titled West Wall, North Light (Green), 2007. The meditative and peaceful painting depicts light casting shadows of trees across one wall in the consultation room. Hassenfeld has also received donations of the RxArt coloring book, Between the Lines.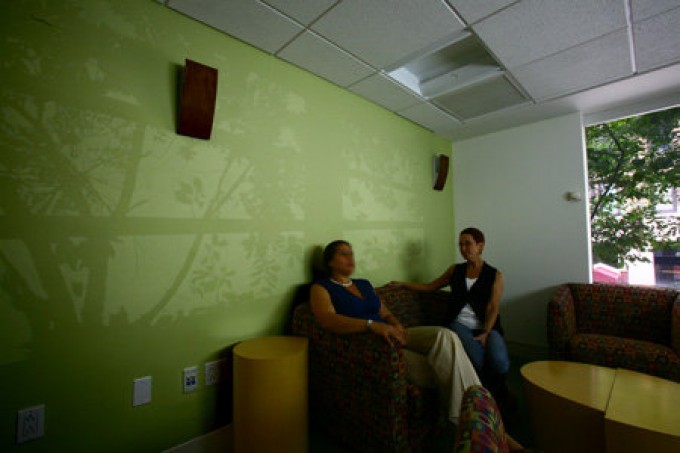 Jeff Koons: [....] To transform the space, the Philips CT Scanner was painted a vibrant blue and decals featuring Koons' Monkeys were applied to the machine. His iconic Balloon Dog, Hanging Heart, and Donkey imagery were also installed to brighten the room as wallscapes. The addition of colorful new flooring completed the project, and the result is an awe-inspiring, playful escape that has completely revitalized the once-sterile room.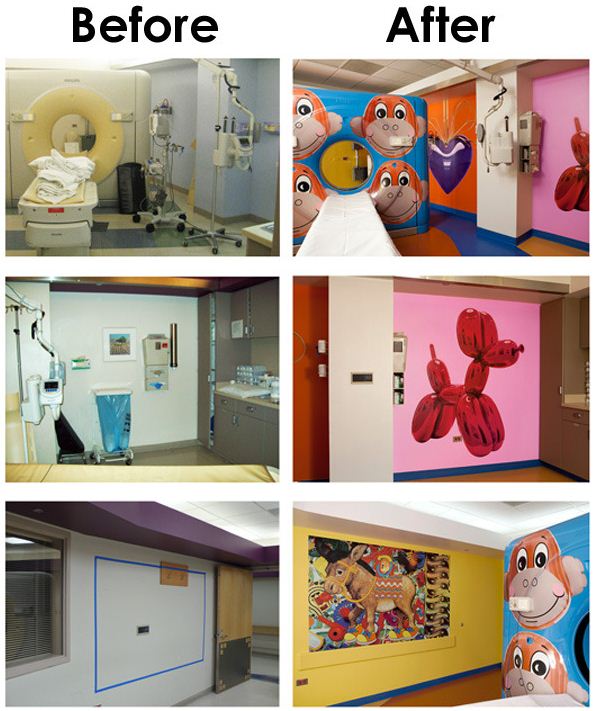 Ryan McGinniss: One of the largest and most exciting projects in RxArt?s history was completed in May 2006 at the New York University Child Study Center. Ryan McGinness was commissioned by RxArt to create a work for the Child Study Center. Using the Center?s logo and publicity materials, as well as information from a visit to the center and conversations with their staff, McGinness created a large number of unique images, integrating his iconographic themes and color in this site-specific installation.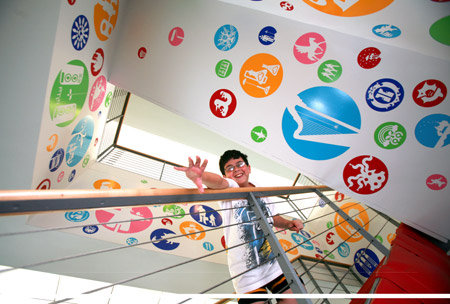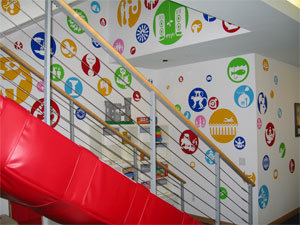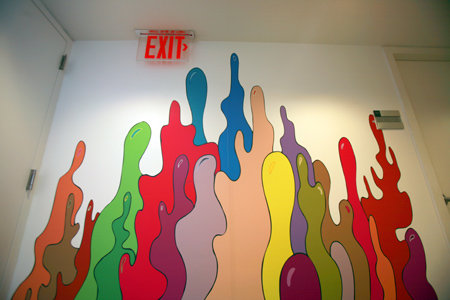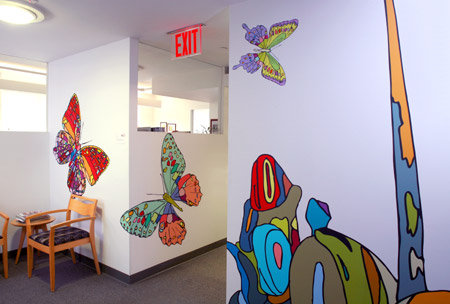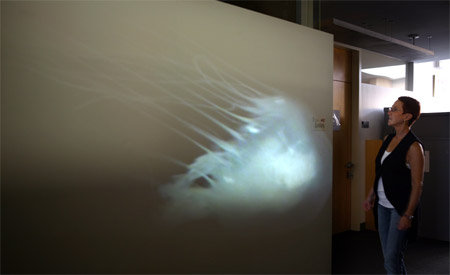 This is incredible work that has a real impact on the lives and treatment of our most vulnerable. I think this is a great example of how the built environment, architecture can aid in the healing process. Stay tuned for more information on healthcare facility design and patient recovery rate improvement...
For more information please visit RxArt or read the original article at NPR News.