July 15 2008
Playing the Building: Harmonics and Transparency of Building Systems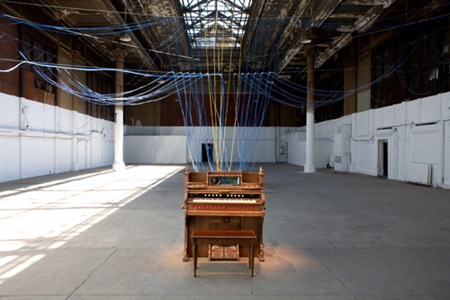 David Byrne, co-founder of the Talking Heads, has turned the New York Battery Maritime Building into a musical instrument. Sitting at a old pipe organ, any 'musician' is able to sonically explore the complexity of the building's system without ever leaving the composers seat. A heavy sound may be for structure. A light sound could illustrate mechanical. A medium sound might describe plumbing. Byrne has opened the often obscure world of complex building systems to the user, and in so doing has found exposed harmony between disparate systems.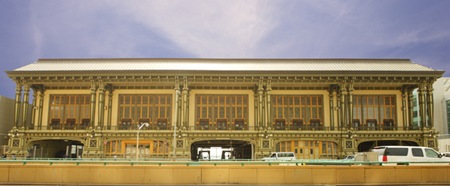 At the Battery Maritime Museum, music is produced mechanically. Parts of the building are hit, causing girders to vibrate. Other elements blow air through pipes, creating whistles. Bumps, rattles, clanks, chirps, zings, whirrs, buzzing, and crunches are all notes in the instrument. No traditional tones are used. Controlling the cacophony is an old pipe organ Byrne purchased at an antique store that allows musicians to play melodies on the keyboard in notes ranging from low to high.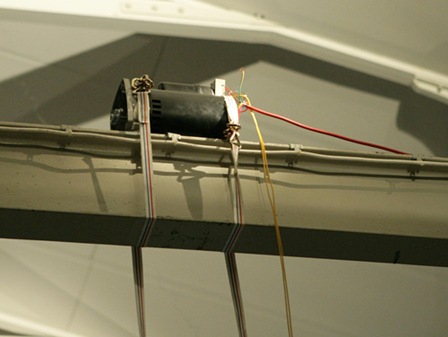 Byrne says about the concept for the installation:
It is very old fashioned... If they've ever lined in an apartment with radiators, they'll be familiar with noises that start usually at night or early in the morning"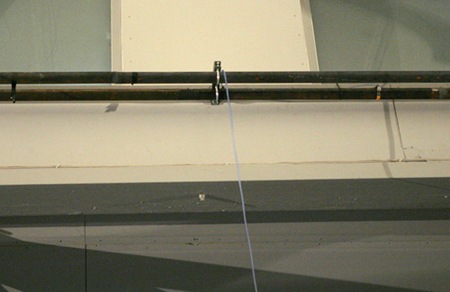 Interestingly, Byrne has never played the instrument himself in public for fear that doing so may inhibit novices from trying their hand.
"People were not intimidated about playing it when they realized what it was doing and it wasn't set up like a conventional keyboard... I think it makes people feel less inhibited, because it is really transparent [in] what it's doing... you can see the machine."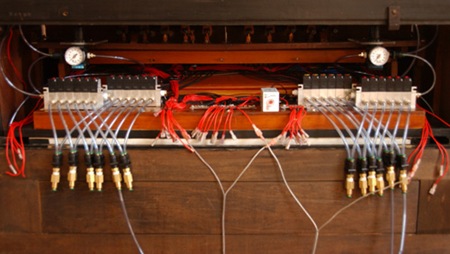 I propose that Byrne, through 'Playing the Building', is alluding to the essence of sustainability. His proof is that even a complex system can be understood if only harmonics and transparency can be applied to help sort the complexity in our minds. What is sustainability if not the physical, procedural and psychological rationalization of the complex systems of ecology? Is there a better way to accomplish sustainability than through the thorough integration of systems on all scales?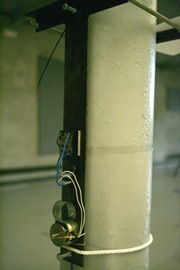 Fascinating to me is the way this installation illuminates the systems comprising the building. The complexity, layering and coordination present in all good buildings, but so often obscured by skins and finishes, is made transparent to the musician. Furthermore, each device connected to create sound, has been tuned to exploit the qualities of the particular element to which it is attached. A steel beam might get a heavy percussive device. A pipe may have an air blower. Yet another smaller pipe may receive a small tapping device to produce light sounds. Whatever the building system or element, Byrne responds with a device that is 'tuned' to create sound most inherent to the element.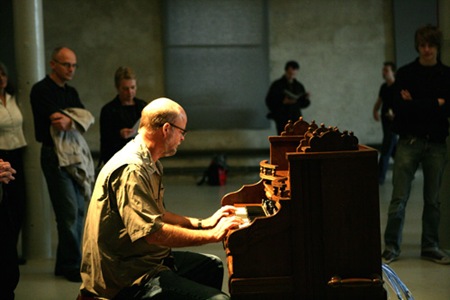 We as designers must understand buildings in the same way David Byrne's musicians are able to comprehend the complex system within their musical instrument. Harmony and transparency may well help us to bring about a more sustainable future. We need to fully comprehend the harmonies between building materials, systems and program in order to create smarter designs. We need to produce building systems that are more translucent to the occupant so they can comprehend at a glance the implications of their behavior and feel empowered to modify their actions.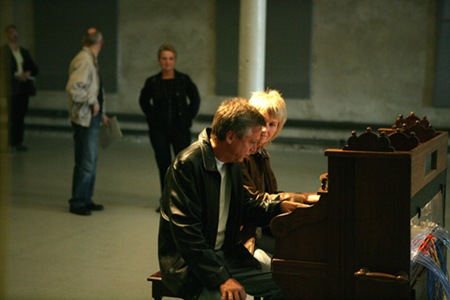 So I say to all building designers out there. If we just listen to our building's systems, we might finally understand how to play a symphony, a sustainable symphony.
For more information please visit the 'Playing the Building' website or an interview with Byrne about the project on NPR.