January 14 2008
The Passive House (Passiv Haus) Building Standard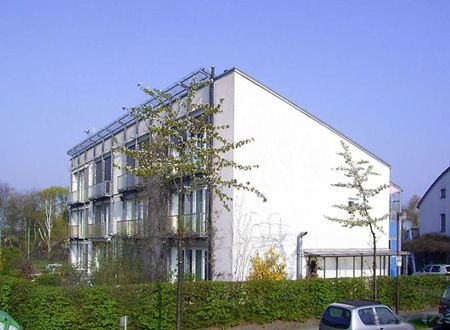 (above) The original Passive Houses in Darmstadt
The Passive House (Passiv Haus) standard is an ultra-low energy building design system which uses extremely efficient building envelopes to significantly drive down energy consumption in structures. The standard is completely voluntary but does have an extremely rigorous set of requirements that must be met in order to be classified as a Passive House. To date only around 6,000 buildings of all varieties including houses, offices, schools, kindergartens, and supermarkets have been certified. Of the total number of buildings, the majority are however houses.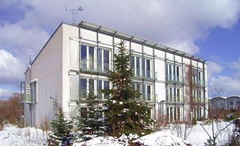 The Passive House standard was conceived during a series of conversations between staff at the University of Lund, Sweden, and the German Institute for Housing and the Environment. Their initial ideas were flushed out in research papers and then proof of concept housing models were built at the University of Darmstadt, Germany, in 1990. These first buildings were a group of four row homes that proved to be 90% more energy efficient than comparable housing using traditional building methods. The standard is now being supported by the EU sponsored CEPHEUS program and has been adapted for use in several other countries throughout Europe and even the United States. (The American examples include the Smith House and the Waldsee BioHaus)
To be certified a building must meet a strict set of standards. These include:
The building must not use more than 15 kWh/m² per year (4746 btu/ft²) in heating energy.
With the building de-pressurized to 50 Pa (N/m²) below atmospheric pressure by a blower door, the building must not leak more air than 0.6 times the house volume per hour.
Total primary energy consumption must not be more than 120 kWh/m² per year
The specific heat load for the heating source at design temperature is recommended, but not required, to be less than 10 W/m²
(The guidelines are flexible to a point depending on regional and climatic variation)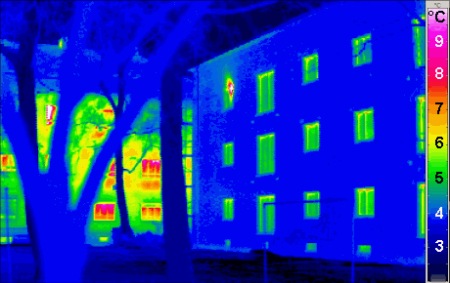 (above) The above thermal image shows heat loss from a Passive House (right) compared to a traditional house (left)
The comparisons between typical building codes and the Passive House standard are quite dramatic. For instance, in the United States, a house built to the Passive House standard results in a building that requires space heating energy of 1 BTU per ft² per heating degree day, compared to anywhere form 5 to 15 BTUs over the same period for a house built to meet the 2003 Model Energy Efficiency Code. This translates to between a 70 to 90% reduction in energy consumption for space heating and cooling. One Passive House home built in Waldsee Minnesota (at the Concordia Language Village) uses 85% less energy than a typical house its size.
Design and construction of these houses naturally follows a much more rigorous methodology than that used in traditional buildings (I would like to note however that as with most things, familiarity breeds efficiency and I would assume the same is true for new building methodologies). It is also worth mentioning that Passive Houses are documented to be no more costly than traditional houses of the same size. Designers are provided a "Passive House Planning Package" and use specially designed computer simulation software to predict the behavior of the building. Some of the design and construction strategies used in these houses are:
Passive Solar Design - leverage the sun's energy by strategically lighting or shading the interior space
Superinsulation - high R-values for walls, floors and ceilings that are thermally broken whenever possible
Advanced Window Technology - usually employing triple glazed argon filled double low-e units with super insulated and thermally broken frames
Airtightness - minimize the amount of heat or coolth that escapes the envelope
Ventilation - including heat recovery ventilator systems and earth warming tubes
Space Heating - minimizes the size of heating components and maximizes internal heat gain from other heat sources in the building
Efficient lighting and electrical appliances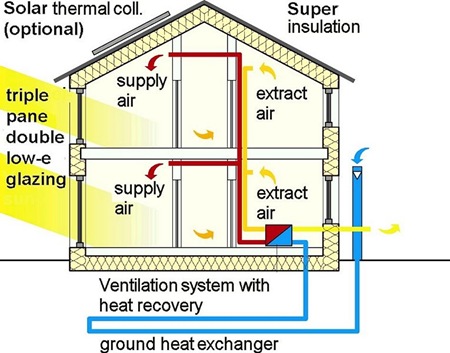 A word from Greenline - I applaud this building standard. It is amazing to see the reduction of energy consumption be so large just by employing essentially passive strategies. I know there are issues with the system such as mold prevention, indoor air quality, and natural lighting reduction, but the gains in efficiency make exploration of these strategies imperative. Greenline posted months ago about buildings in the United States using about 40% of all energy. Imagine that again if all our buildings suddenly became between 70% and 90% more energy efficient. And I do believe that is an achievable goal even given aesthetic, comfort, economic and policy constraints. It simply must be the case if we as a species are ever going to reduce our impact on the planet and keep our standard of living as high as I would personally like.
Stay tuned for more posts on Passive Houses!
For more information on the Passive House standard please visit: The Passive House Institute, The Waldsee BioHaus, E-co Lab Passive House Projects, and Wikipedia.
The two US Passive Houses are posted on Greenline as Smith House: A Passive House in Illinois and Waldsee BioHaus: First Certified Passive House in the US.