October 23 2007
Nk'Mip Desert Cultural Centre + Rammed Earth Wall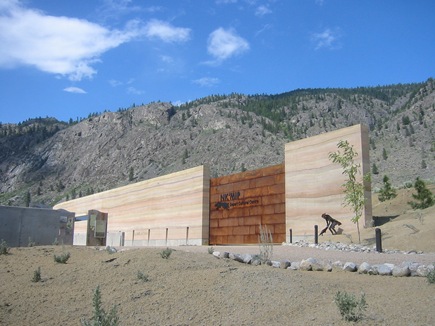 The Nk'Mip Desert Cultural Centre is at the heart of the 1,600 acre Osoyoos Indian Reserve, which is also the "largest intact remnant of the Great American Desert." The cultural center was created as part of a larger 200 acre development project for the Osoyoos Indians for which the stated goals are part economic development and part cultural preservation. The cultural center is crucial to the tribes effort to strengthen and enforce the connection between the tribe and their landscape.
" from a First Nations perspective, you can't separate people from the land."
The tribes strong identity with their land was key to their development of the cultural center's architecture. The building is situated at the crux between the newly developed resort and the preserved land area. The whole building appears to be sunken into the earth and held back by a large rammed earth wall.
The fascinating part of this project is how they used the rammed earth wall to mimic the color palette of the desert. The layers of soil used to form the wall were chosen based on color and texture. The following slideshow has more images from the project.
For more information see the original article in Canadian Architect.
svgallery=SVGallery_NkMip