December 17 2007
Marmol Radziner Homes (Prefab)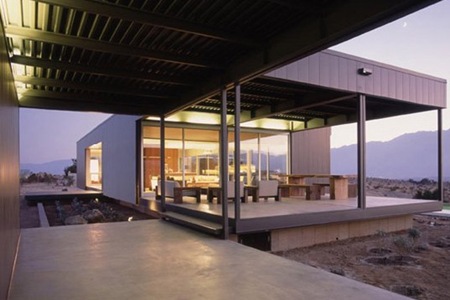 Marmol Radziner Homes (MRH) are factory-built volumetric modular units. Mr. Radziner states that the homes:
are created with the environment in mind and are built to make LEED certification.  Materials, methods and lifestyle is chosen in such a way as to have as little impact on the environment as possible.  For long-term sustainability, the module structures are made from recycled steel. The homes employ other green materials, including Structural Insulated Panels (SIPs), FSC-certified wood, low VOC Green Seal paint, solar panels, and more. Floor-to-ceiling windows capture natural light, while expansive decks provide shade for passive cooling and promote the best of indoor/outdoor living.
The MRH homes are componentized into house and deck modules which are each a maximum of 12? wide and 55? long. Modules are customized in the factory to include the materials, fixtures and other components the client requests. Each module is constructed of recycled steel and then a variety of sustainable material are used as infill panels. Other green materials are used such as SIPs, FSC-certified wood, bamboo flooring, copper siding, and low VOC green seal paint. These materials are all combined to produce a home that is well insulated so that when the exterior temperature is not within the human comfort range the house can be closed and minimal energy used to condition the space.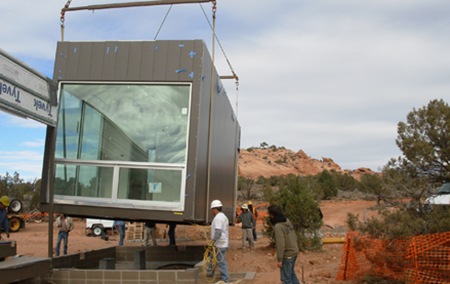 Energy efficient appliances are used to further offset the house?s impact on the environment. Equipment such as water heaters and HVAC equipment is chosen based on efficiency. Solar panels are an option and can be installed on the roof to offset utility usage.
MRH homes are highly customizable. Factory fabrication techniques are not said to limit the design and customization ability of the architect but does allow for minimized construction waste, recycling of materials, reduced site disruption, and allows craftsmen to work in one central area.
Prices for the house start at around $265 per SF installed but not including the site and foundation costs. Many options are available and the house can be customized so the prices can vary significantly.
Marmol Radziner estimates that it takes between 6 to 8 months to deliver the final home once the process is started. After the site work and house modules are complete the house is delivered and assembled in one day. An additional 4 to 6 weeks of final finish work is needed after the house is connected to the slab. Utilities must also be connected during this time. These times do not however include any regulatory or financing deadlines that may slow the process. The modules are designed specifically to conform to national highway transportation standards at maximum dimensions of 12? wide, 55? long, and 13? high. Final checks ensure that no materials were dispaced during transport.
For more information please visit the Marmol Radziner Homes website.
svgallery=SVGallery_Marmol