October 22 2007
Solar Decathlon - LEAFHouse - University of Maryland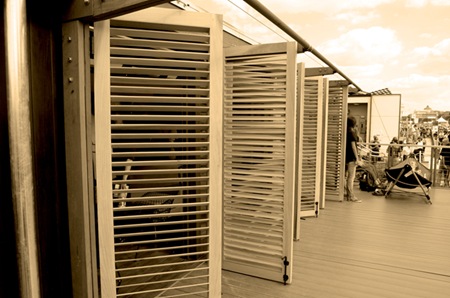 LEAFHouse by the University of Maryland came in second place in this year's Solar Decathlon and generally had strong showings in most categories. The house was borne from the idea that the "leaf is the most efficient system in nature." That, says Brittany Williams (a student leader on the architectural team), generated many of the design ideas within the house.
Overview
Visitors immediately notice the roof structure which uses a central steel tube to brace the roof members. Similar to the way a leaf has a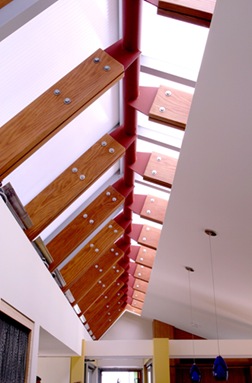 central structural element from which the smaller elements sprout. A translucent skylight runs the length of the house along the rib, bathing all the spaces in a mostly northern and hence diffuse, soft light throughout the day. The skylight is filled with nanogel, a proprietary material made of aerogel by Cabot Corp, that creates a very high R-valued translucent panel (the Nanogel material is also used in the Icarus House). The south-facing slope of the roof also becomes the location of the solar hot water and PV panels. The interior features a series of movable partitions that allow the small 800 sf plan to feel open unto itself and to the exterior. The student designers proudly explained how the large south facing glass doors and shutters created a real connection between the outside and inside.
John Kucia, student and co-manager of construction, says about the house:
" we have some enormous south-facing sliding glass doors that admit substantial light and open up views to the outside..."
SHAC (Smart House Adaptive Control)
Smart House Adaptive Control, or SHAC for short, is the web-enabled, sensor network that controls the energy efficiency and operation of the house. The system includes sensors for humidity, temperature, light, and position of doors and windows (open vs closed). Data collected by the sensor network is further leveraged by Web-accessed weather data in order to forecast the efficiency and operation of the house. It is noteworthy however that the computerized controls for the house can all be manually overridden in the instance that the occupant wishes to affect the house on a more physical and tactile level.
More information on the LEAFHouse can be found on the official team Web site. The slideshow below shows some of the highlights from the house.
svgallery=SVGallery_UMD