December 3 2007
Jean Nouvel's New York Tower: A Question of Structure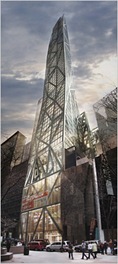 A recent NYTimes story by Nicolai Ouroussoff discusses the appearance of a dramatic new tower design on the skyline of New York City. The new 75-story tower, designed by world renowned architect Jean Nouvel for the developer Hines, will house an extension of MoMA (adjacent to the site), a hotel, and luxury condominiums. The article discusses at length the reasons behind the project in the context of a relatively conservative period in New York high-rise tower design.
The author asks:
How did a profit-driven developer become more adventurous architecturally than MoMA, which has tended to make cautious choices in recent years?
and then answers:
Hines [who MoMA sold the site to] asked Mr. Nouvel to come up with two possible designs for the site. A decade ago anyone who was about to invest hundreds of millions on a building would inevitably have chosen the more conservative of the two. But times have changed. Architecture is a form of marketing now, and Hines made the bolder choice.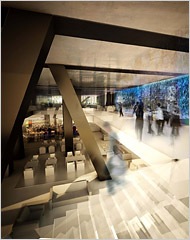 What I find truly fascinating about this structure is the dynamic structural system exposed on the facade. Subtly stated at the bottom of the article hidden behind speculation of motivations of the developer and poor decisions by MoMA is the real gem, that the structural system was chosen based on requirements by zoning, sight lines, and foundation pressures. The building quite literally contorts itself into the proposed shape as a means of fulfilling a number of city regulations and program requirements. In one gesture the building peels back to expose views for the residential museum tower. In another move, the building is cut away on the northeast corner to conform to zoning regulations.

Also, using large structural members on the facade, in the crisscrossed pattern shown above, the architect was able to create expansive floor plates which are relatively free of columns. It is a rather trendy move to use the exposed "wireframe" structural system, but maybe the justification for such a system is genuine in some cases. I question whether a building could be so nimble in meeting it's constraints if there was no such structural technology. No word yet on whether the building systems will have any intelligent attributes as it appears the structural system has adopted. I for one hope that the designers realize their responsibility to deliver a high performance building trumps ego or simple aesthetics.
For more information read the original article in the New York Times.