September 14 2020
How Gallery Design Influences How We Interpret Art
The experience of Art is always constantly affected by the context it is in. At a micro context there is a three-way link between Art, the Viewer, and the Gallery. The discussion at our team's weekly Friday at Four meeting documented two Galleries with differing design intents and how each space molds the experience of the Art within.
Chichu Art Museum designed by Tadao Ando in 2004 is situated remotely on Naoshima Island in Japan.  The entire museum is sunken into a hill on the island. The Viewer is invited into the museum encapsulated by concrete walls as they navigate around. Light and shadow play a big role in sculpting out the monumentality and tempo of each room and art piece within the museum.
The Gallery provides an introverted and introspective experience to the Art. This experience is achieved through the fixed route of curated spaces dedicated to permanent exhibitions of Claude Monet, James Turrell and Walter De Maria. The coordination between the Architecture and the Art peaks at each exhibit while the pathways around the museum provide a pause for the Viewer to contemplate before arriving at the next piece.
Louisiana Museum of Modern Art
Louisiana Museum of Modern Art designed by Vilhelm Wohlert and Jørgen Bo in 1958 is at Humlebæk, Denmark. This museum opens up to the sea and vegetation around the site. Louisiana uses a combination of brick, wood, steel and glass to create a variety of textural backdrops for the Art exhibited. While light plays a big role in Louisiana like Chichu, the scenic outdoor view acts as the main backdrop in this museum.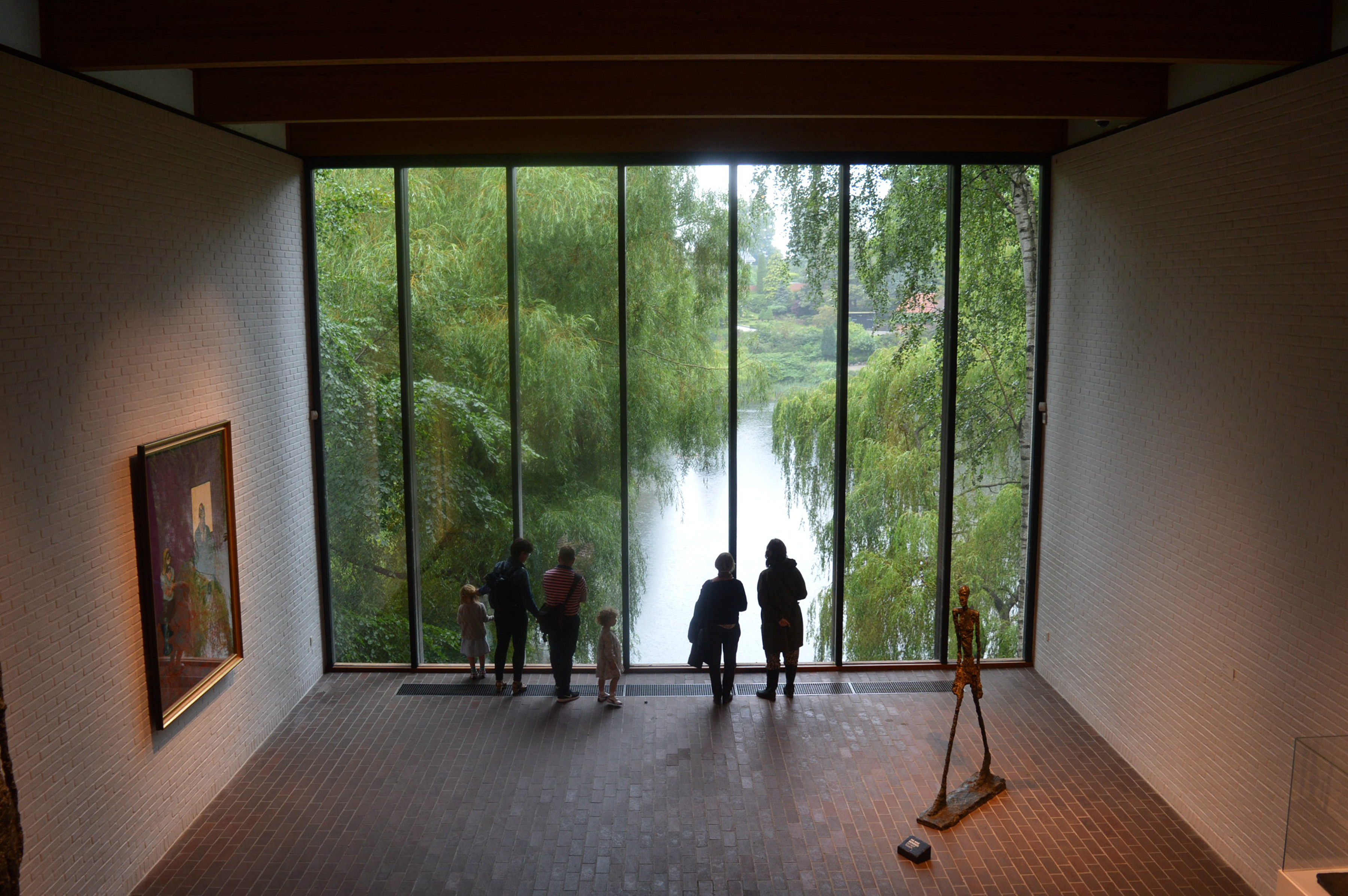 Louisiana contrasts Chichu in its extroverted approach to engage the Viewer with the Art. While Chichu encloses walls to draw an intimate experience on Monet's "Water Lilies" or Turrell's "Afrum, Pale Blue"; Louisiana creates windows to backdrop the water and greenery behind Giacometti's 'Walking Man'. The Viewer eventually wanders to the external part of the museum where it faces the coast.  The extroverted personality of the museum takes hold here at the sculpture park when crowds gather outside for a coffee at the café or event screening around sculptures by Alexander Calder and Henry Moore.
Both buildings are examples in how Galleries could be designed today. Chichu and Louisiana provide a bespoke context to the Art pieces held within which cannot be experienced at other Galleries or locations. A comparison could be drawn against white cubes galleries which could be interpreted as sterilizing Art out of its context.
Every type of gallery has its own merits and detriments.  Architects, designers, and curators should strive to stretch the typology of the Gallery in new ways and question themselves if established standards are holding artists back. By providing more diverse Gallery environments, Artists themselves would also be freed from universal expectations in how their Art is displayed.