January 16 2008
House of Representatives Eats Green
The New York Times reported today under the cheeky headline, "More House Salads, Whether the House Likes It or Not," on recent efforts at the national capitol cafeterias to go green. Like just about everything else in our nation's capitol, food service within the congressional office buildings seems to move with the political whims of the nation. ("Freedom Fries" anyone?). So, it makes some sense that the Speaker of the House and the Bay Area's leading politician, Nancy Pelosi, would bring a bit of the California food movement to Capitol Hill.
Last spring, Ms. Pelosi launched an initiative to provide an environmentally responsible and healthy working environment throughout the House. So, as part of the initiative, the cafeteria menus received a make-over. Hungry workers and visitors in the House side of the capitol complex are now treated to such items as organic yogurt, cafe-free eggs, sustainably harvested seafood and rGBH-free milk. Much of the food is grown within 150 miles, meaning the menu tends to be quite seasonal. Items are served on bio-degradable plates.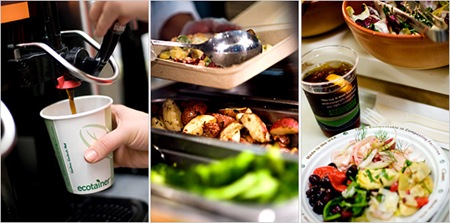 Despite grumblings from some about the misuse of taxpayer money on the upgrades, the cafeterias are not only taxpayer subsidy-free, but actually turn a profit. The company running the cafeteria, however, has run into trouble with industry representatives about what food has been chosen for the menus and the description of some of the sustainability efforts. There were questions about whether a particular brand of yogurt was favored because of company connections to the Hill. Milk lobbyists objected to a description of rGBD-free milk. Agricultural committee staffers lobbied for changes in the cage-free egg description. An editorial in a agri-business newsletter claimed that the company running the cafeterias is ?hooked by propaganda of animal rights groups? and are ?advocates of vegetarianism."
Well... this is Washington after all.
Perhaps, though, with lawmakers and their staffs reaping the benefits of more healthful food, they might be kind enough to set a more healthful food legislative environment for the rest of us.