January 12 2008
Historic Renovation in Raleigh Hits LEED Platinum
ZigerSnead has a 25 year history of making some of the Baltimore region's finest architecture. That also means that many talented people have come through the office at one point or another. All in all we are fortunate to work with some of the most creative, intelligent and dedicated designers to be found anywhere.
It is with great pride that Greenline blogs the work of former employee Craig A. Carbrey on the Cherokee Investment Corporation renovation of a historic downtown Raleigh NC building. Craig, who now works at Tise-Kiester Architects in Raleigh NC, was project architect on the 48,000 sf LEED Platinum historic renovation. When asked about the building by AIArchitect, Craig "explains that daylighting was the toughest issue for the design team. 'The fact that it was an existing building made that much more challenging, since only the south and west walls of the existing buildings had windows,' he says. They hurdled the obstacle by 'cutting a few strategic windows here and there' so that 90 percent of the office occupants have views to the exterior."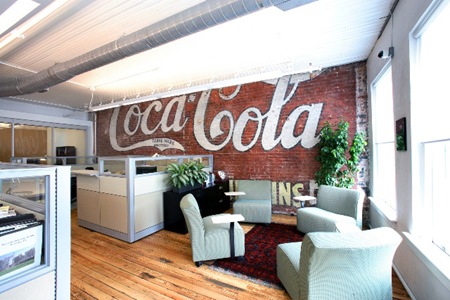 Other sustainable measures include high use of FSC-certified woods, efficient faucets and waterless urinals, high efficiency HVAC, and zero- or low-VOC paints, adhesives, sealants, furniture, and carpeting. The facility provides occupants with easy access to public transportation, along with showers and bike storage to encourage zero-emission transportation.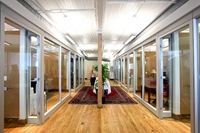 Through the carefully executed renovation, approximately 86 percent of the construction and demolition waste was diverted from the landfill. Greater than 60 percent of the office interior was reused, yet energy consumption is reduced by over one-quarter and water consumption is down by nearly half. Finally, the office workstations selected by Cherokee contain 82 percent recycled content.
Cherokee?s Chris Wedding says that the new facility has been a great source of employee enthusiasm and pride. ?It?s something to remind us of the cool work that we?re able to do redeveloping communities,? he enthuses. ?In a way this project was almost a learning lab where we learned what works and doesn?t work in a green office and we?re able to translate that knowledge to leverage it to help influence larger redevelopment in our projects.?
Begun as a shell renovation, the project combined 8 properties with 10 addresses in downtown Raleigh. The shell building occupies the corner of Hargett and Wilmington Streets and encompasses 48,000 square feet, says Tise. As the largest tenant, Cherokee inhabits approximately 22,000 square feet of the newly renovated space.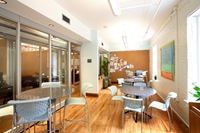 ?The shell was in pretty good shape, once we did the shell restoration, and was about 80-90 percent complete when we started design of the Cherokee upfit,? explains Tise. ?What [building owner] Empire was trying to do was take these eight different buildings and turn them into one building that could be leased out like a Class-A office building. We set it up so that there could be multiple small tenants or one large one, which ended up being Cherokee. They think of it as a Class-A shell that they were going into, just a really nice looking brick and wood one instead of your typical Class-A.?
?The challenge from a LEED certification standpoint is that the USGBC really doesn?t recognize renovation,? bemoans Tise. ?They?re working towards it, but they don?t recognize renovation in the point system they currently have. That?s the big challenge in general, but it?s getting better.?
?Unfortunately, there?s a dearth of projects that combine LEED or green design and historic renovation,? adds Wedding. ?Hopefully those two worlds will start to come together a little more. They certainly have shared interests.?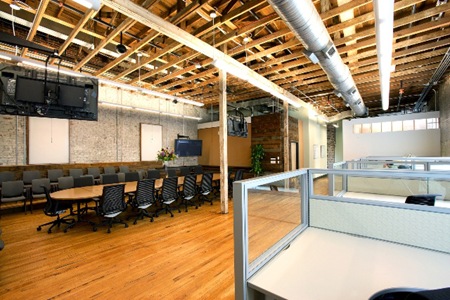 This last point on LEED and Historic Preservation brings up a challenging aspect of creating LEED buildings using historic structures. While LEED does seem to deal well by placing emphasis on brownfield development and minimizing the development of and effect on greenfields, the rating system really does not credit adaptive reuse and historic preservation enough. I can't be too harsh with the USGBC. The vast majority of development in the US is being done on greenfield sites. Their goal has always been to change the industry in the most meaningful ways possible and on those points which will have the greatest impact. While I absolutely see the need for a rating system that considers the embodied energy in historic structures, I also recognize need to influence the reckless development of American cities. So generally I support the USGBC's concentration on brownfield and greenfield sites in the rating system. Hopefully though, future iterations of LEED will award more points to projects that treat our aging urban building stock with respect.
For more information on the renovation please read the original article Historic Renovation in Raleigh Hits LEED Platinum published by AIArchitect.