November 8 2007
Hammarby Sjöstad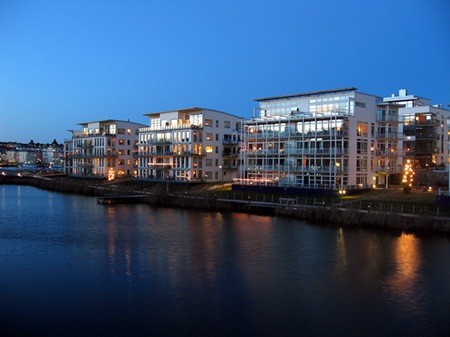 Hammarby Sjöstad, translated ?Hammarby Lake City,? is a sustainable, environmentally friendly, mixed-use development located adjacent to the city center of Stockholm. The project illustrates a sustainable approach to redeveloping a former industrial site into housing, commercial areas, and recreational space, and how that development can be articulated as a direct extension of the Stockholm urban core. Many of the unique features and strategies of this project are a result of physical adjacencies and strategic interactions between the new development, Stockholm city and Lake Hammarby. Innovative transportation methods, urban planning, biogas production from waste, power generation from trash, installed photovoltaic arrays, solar hot water tubes, centralized vacuum tube recycling collection, storm water remediation, green roofs, brownfield cleanup, and public education on environmentalism are some of the successful technologies and strategies used at Hammarby. The bold aspirations of the project necessitated cooperation between a number of public and private entities and enabled the successful implementation of this visionary master plan. The effort has resulted in a successful ?growth ring? [4] expansion of the Stockholm city center that meets Sweden?s stated environmental, energy, social and economic goals for the future.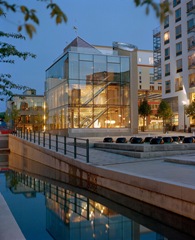 ?The building and property sector in Sweden is responsible for a very high proportion of the environmental impact on society; it accounts for 40% of total energy use, just over 40% of the use of materials, and a considerable share of waste. Considerable amounts of greenhouse gases are generated, and account for about 20% of Sweden?s total emissions of carbon dioxide.? In response to environmental and other pressures, the Swedish government has stated that it wants to develop the concept of the ?green welfare state? where ?everyone lives in good housing, at reasonable cost, in a stimulating and safe environment, within a long-term sustainable framework.?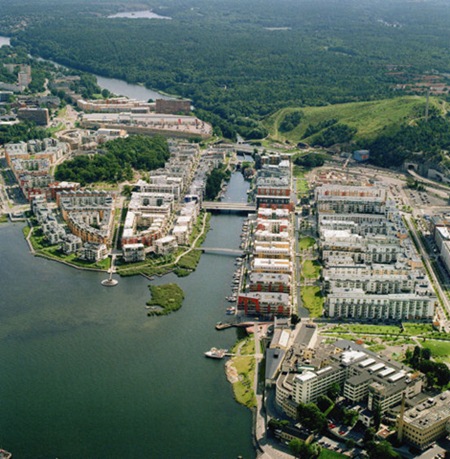 The 200 hectare site will eventually be home to 20,000 residents plus an additional 10,000 workers. Residents will live in the roughly 10,000 new homes that will be constructed on the site. Serving this population will be a number of private businesses, public amenities, and community centers. The main circulation artery servicing the city is a 3.5 kilometer long, 37.5 meter wide, boulevard along which nearly all ground floor spaces are reserved for businesses and other commercial uses. Additional commercial space is provided in the form of two story pavilions placed strategically around the communities. To date the city is home to 24 restaurants and bars; 20 fashion, electrical, interior, book and flower shops; 15 health and beauty stores; 8 launderettes, general services and key cutters; plus many other cafes and bars. The densities, mixed-use character, and urban patterns for Hammarby Sjöstad are based directly on the model of Stockholm?s old city. Even widths of buildings, heights of buildings and dimensions of roads reference the old city. Planners hope that using similar urban patterns and densities to those found in the old city will reinforce the viability and vitality of Hammarby Sjöstad for generations to come.
This report was prepared while I was a graduate student in Sustainable Design at Carnegie Mellon University. For a full pdf of the report please click on the image below.