November 20 2007
Glidehouse by Michelle Kaufman Designs (Prefab)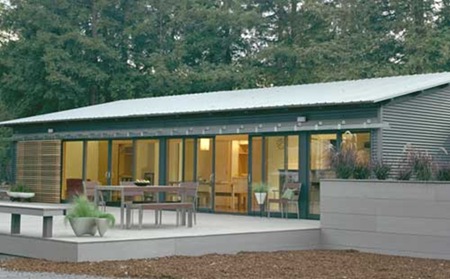 General Description:  The Glide House is a factory-built modular home designed by Michelle Kaufman Designs.  The house is an example of clean simple modern living with an emphasis on both the internal and exterior environment.  The design is available in several different configurations which  are all based on common dimensions to facilitate factory-construction, easy transportation, and quick on site assembly.
The Glidehouse has large open spaces with big windows along one entire facade to create a sense of spaciousness within the modest dwelling.  Storage and utility spaces are cleverly built into a core strip along one edge of the building which further serves to emphasize the open living, dining and kitchen areas in the plan.  The storage space is also flexible to accommodate varied styles of living and frees the living area of the house from clutter. 
The house is available in one, two, three and four bedroom versions with an optional two story plan.  Buyers can also choose from several different window, door, wall, flooring, fixture, facade and roofing options.  These options allow a moderately customized house design to be made starting with a limited number of plans.
The Glidehouse is designed with fundamental ?green? building strategies in mind.  The long shallow building form encourages cross ventilation and this is encouraged by large windows on the living side and clerestory windows above the service core.  The house does not come standard with any SPV, SHW, GeoTH, or WGR systems but all are available after consultation.  Further design of the house may be required to facilitate incorporation of ?green? technologies.  Materials are chosen based on environmental criteria and the factory-based construction system maximizes efficiency of materials and captures waste while not significantly affecting the area adjacent to the building site.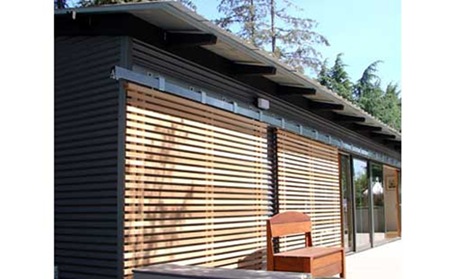 Construction Process:  Delivery of the house is streamlined to help create the simplest and most accessible buyer experience possible and increase predictability of product.  Step one is to obtain the land.  Step two is to get financing.  Step three is to meet with MKD and decide on the options needed.  Step four is obtaining engineering and permits.  Step five is production of the home by the MKD factory and preparation of the site.  Step six is delivery and buttoning of the house modules.  Taken as a whole the buyers experience, while not offering the tremendous freedom of designing a home from scratch with an architect, is scripted to be straightforward and prompt.
svgallery=SVGallery_Glidehouse