September 17 2007
Friends Community School goes Straw-bale!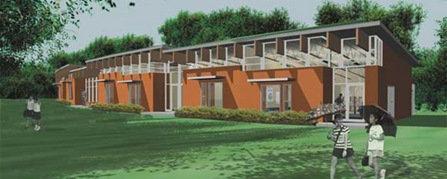 The College Park Friends Community School, College Park Maryland, is set to open a new eco-friendly school building which uses straw-bale construction. The school is sized for about 165 students at 27,000 sf and the total budget is estimated to be $5.7 million.
Straw-bale construction uses a mixture of straw and earthen material to create a highly insulated building envelope. Straw-bales are good load bearing elements, and once they are covered in plaster, they are durable against rain, fire, insects and wind. The biggest danger in straw-bale construction is generally moisture as it can degrade the walls quickly if not drained.
Straw-bale is a fascinating technology that Greenline will explore more in the future.
Here is a link to the original article.