December 15 2007
FlatPak House (Prefab)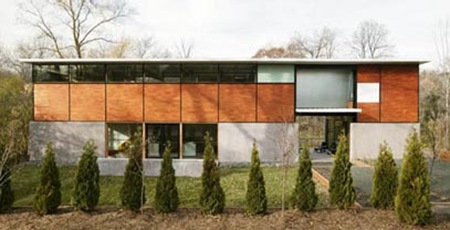 The FlatPak House is a factory-built house designed by Charlie Lazor. The house design is based on principles the designer acquired while doing work for his award winning modern furniture design company, Blu Dot. Furniture is of course increasingly being designed to minimize the cost of material, labor and transportation which are the major contributors to furniture cost. It is for that reason that companies like IKEA use systems where interchangable parts are packaged efficiently in "flat packs" for easy transportation. The modular nature to these furniture designs mean that specialized labor is not required. Borrowing from these ideas, the FlatPak House system is a ?menu of components? designed to yield unique combinations and solutions to a clients needs at a lower cost, increased quality and on a predictable schedule.
The FlatPak House is not specifically designed to meet any sustainable goals. Instead it is economical in its use and careful in its selection of materials. The construction type does limit waste and reduce the amount of site disturbance. Also, the house is designed with large open glazing areas that encourage daylighting and natural ventilation.

Production of the modular pieces takes place in a factory and then the flat-pack pieces are trucked out to the site for final assembly. The house is based on an 8? grid. The designer and client have the option of changing the material, shape, and character of the building every 8? in the building plan and elevation/section. The variations become an exercise in customizing the house the the client?s needs. The design process is estimated to take anywhere from three weeks to six months based on the clarity of discussions between architect and client. Manufacture and assembly of the house is estimated to take an additional 6 months after design is complete.
For more information please visit the FlatPak website.
svgallery=SVGallery_FlatPak