December 2 2007
E.U. Eco-label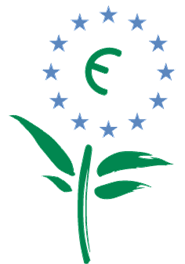 Established in 1992, the European Union Eco-label "Flower" is a unique certification scheme aimed to help European consumers distinguish greener, more environmentally friendly, products and services.
Over the past ten years, the "Flower" has become a European-wide symbol for products, providing simple and accurate guidance to consumers.
All products bearing the "Flower" have been checked by independent bodies for complying with strict ecological and performance criteria.
There are currently twenty-three different product groups, and already more than 250 licenses have been awarded for several hundred products. Major categories include (no medicines or food are included): Bedding, Footwear, Do-It-Yourself, Services, Gardening, Household Appliances, Cleaning, Lubricants, Electronic Equipment, Textiles, and Paper.
Please see their General Information Brochure or their product page for more information.