December 4 2007
DuctSox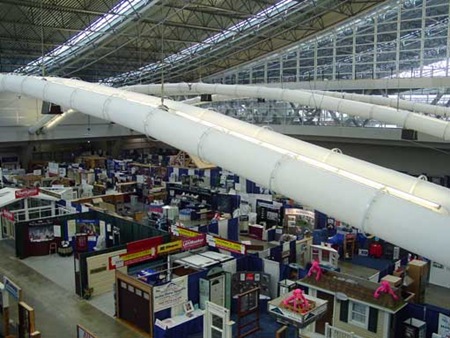 DuctSox is an innovative product designed as an easily installed, cost effective and attractive alternative to metal ductwork. The ducts are constructed of fabric shaped into shapes including cylindrical tubes, half-rounds or quarter panels. The DuctSox is used to distribute and diffuse heated, cooled, refrigerated and make-up air into a space. A variety of product designs are available to meet many different use and space requirements.
Benefits of DuctSox are:
Superior Air Dispersion - air is discharged uniformly along length
Easy Balancing - little balancing down stream from the inlet collar
Lightweight - reduced roof loads / easy handling
Easily Shipped - lightweight material reduces transportation costs
Flexible - no denting, scratching from objects like balls
Air Porous Fabric
Hygenic - do not absorb moisture / anti-microbial treated
For more information on the products please see the DuctSox product page.
Below is a gallery of some installations.
svgallery=SVGallery_DuctSox