May 19 2008
Catholic and Sustainable?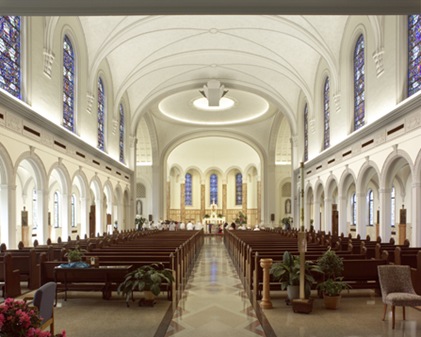 Absolutely! In a wonderful example, the Sisters, Servants of the Immaculate Heart of Mary (IHM) used the concepts of sustainability to renew the vision of their community. In clear and purposeful words the Sisters proclaim:
"[that] Today's IHM community is at a unique and historical moment. Through research, discernment and study, we came to a renewed vision for bringing about the dream of God on Earth. Our community was inspired, through learning and prayer, to renovate our home and to renew our campus and our lives in ways that express our commitment to sustainable living.

A sustainable way of life means that the needs of the present are met without compromising future generations' ability to meet their own needs.

Our IHM community considers sustainability a moral mandate for the 21st century. Our growing ecological consciousness places all humans in interdependent relations to one another and to all life on the planet."
The awareness fostered within this community about the relationships in nature helped spur a rethinking of the entire 280 acre campus and a major renovation of the historic Motherhouse in the center of that campus. This led them to consider their campus a "living laboratory" for "sustainable communities across the globe," something they term their "Morale Mandate."
The campus is located in Monroe Michigan along the Raisin River. More information about IHM reveals that there are over 480 vowed sisters and 120 associates (lay men and women formally associated with IHM) living on campus. Of those 220 live in the renovated Motherhouse building. 220 additional staff members also work on campus.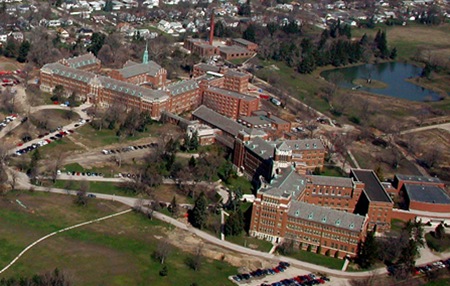 Motherhouse Renovation
The Motherhouse project included over 380,000 SF of renovated space and is one of the largest historic renovations in the country. Total project budget was $58 million. The program is residential mixed with a number of activities to help preserve the health and vitality of the sisters. The architects, SMP Architects, were also tasked with making the spaces appealing to outsiders as a way of planning for future changes in the community. One of the first and most sustainable decisions in the project was the decision to preserve the existing building in lieu of building new.
Sustainable Features Include:
Reuse and Recycling
Reuse of 800 wood windows (+ new insulated glazing)
Reuse of entry doors, closet, cedar cabinets and 15 wood bathroom stalls
Salvaged marble used for countertops and windowsills
Energy Efficient Infrastructure
Daylighting
100 period light fixtures retrofitted for CFL bulbs
Occupancy sensors / controllability of lighting system
Highly insulated envelope
484 vertical fan coil units for user control / customizable temperature
a 232 well (450' deep) closed loop geo-heat exchange system
a centrifugal chiller for cooling and auxiliary boilers for backup heat
heat recovery units
Water Conservation and Site
Constructed wetland on-site
Potable water consumption reduced 55%
Grey water (sink and shower) diverted to constructed wetlands - 7,270 gallons per day
Grey water used to flush toilets - 4,560 gallons per day
Vegetated swales in parking lots
Habitat restoration using native grasses and wildflowers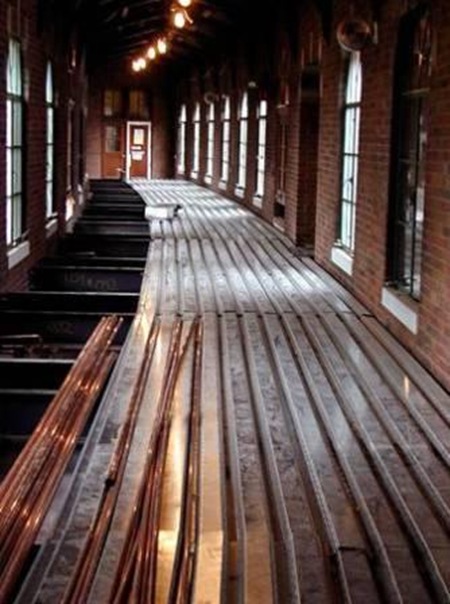 What is interesting to me is that the language being used by this religious group (and I cannot speak for the multitude of communities of faith out there) really borrows from the lexicon of contemporary environmentalists. Terms such as Triple Bottom Line, Sustainability, Environmentally Responsive, and Land Stewardship are in my mind associated with Rachel Carson, Paul Hawken, and William McDonough. At the same time however, it must be said that these words are imbued with themes common in religion such as social and environmental equity or stewardship.
If you are interested in reading more about the relationship of religion and the environmental movement I would recommend visiting Grist.org's series titled "God & the Environment." Also, the title of this post was cribbed from an article by Carol Frenning that can be found here which also explores the sustainability and religion albeit in stricter terms and specifically related to Catholicism.
For more on this particular project please visit the IHM news webpage.
svgallery=SVGallery_IHM