January 1 2008
CARVE: Playground Equipment of the Future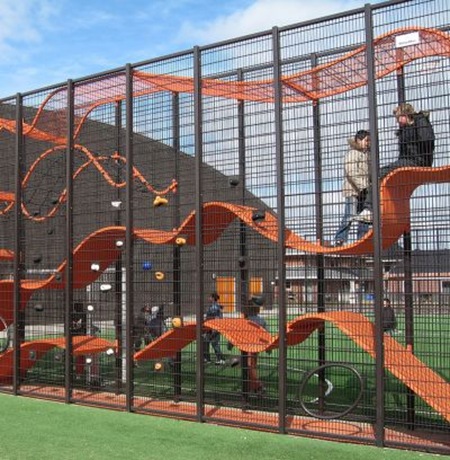 Dutch design firm CARVE creates innovative and playful playground/park equipment. What child would not want to spend his or her recess exploring the "walhalla" playground (shown above). Two vertical mesh screens enclose a series of undulating ribbons. The ribbons undulate to become walking surfaces at some points, walls at others, ceilings at yet others. The surface of the ribbons us primarily orange metal mesh but that too changes to become rope mesh or simply open grid where appropriate to create dynamic space within the structure. The exterior vertical screens have climbing holds place intermittently on them to allow children to climb around on the exterior surface. Occasionally the children may find a strangely shaped opening in the mesh where they can enter and exit the play structure.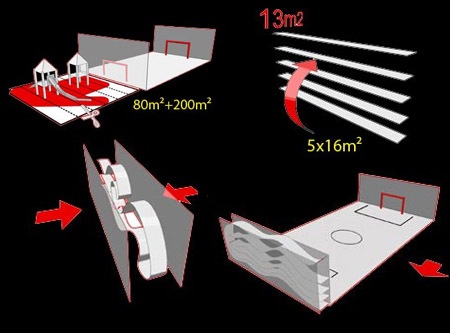 The concept behind the structure is ingenious. It appears as though (roughly translated from Dutch) that the design came about as a result of requests for space saving and space defining playground equipment. The designers took a typical 80 sq. meter playground and sliced it into strips. The strips were then stacked and enclosed in a metal mesh wall. The strips are allowed to undulate because they are now free from the ground. The playground can now be used as a bounding space (wall / screen) because it is vertically stacked. Shown in the photo above the "walhalla" forms the edge of a soccer field. The goal is visible if you look carefully through the structure.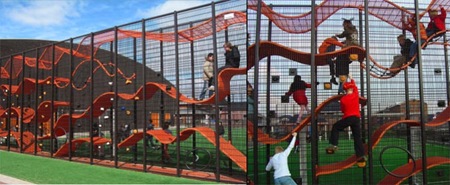 Other play ground equipment designs by CARVE are also worth studying. It is refreshing to see such good design applied to children's playgrounds. Children have an incredible propensity to imagine their surroundings as something wonderful, and so imagine if they can play on structures like these. This project reminds me somewhat of Tschumi's floating canopies at La Villette but are definitely more dutch modern than postmodern.
The walhalla design was nominated for the Dutch Design Award in 2006. More information about CARVE and walhalla can be found on the designers website or from the manufacturer's product page.
For more interesting playground equipment please visit the Mobius Climber post...