February 19 2008
Building Integrated Photovoltaic Cells from Open Energy
The Greenline team came across the Open Energy Corporation while doing some initial research for a sustainable school project of ours.
Open Energy produces building-integrated photovoltaic cells. Their product line includes energy producing roofing shingles, roof membranes and architectural glass:
We're especially enamored of their architectural glass product: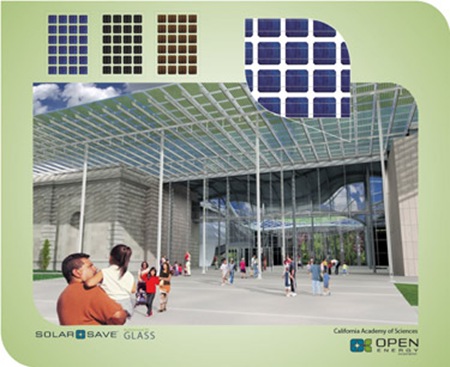 While providing on-site renewable energy is an admirable goal, too often this means sacrificing the aesthetics of the project with rack upon rack of roof-mounted solar cell panels. Imagine instead glass canopies and window walls which not only performed their usual functions of keeping out the weather and providing interior day lighting but also powered part of the building!
You can learn more about Open Energy's products at their web site.
Now... if only photovoltaic cells were already efficient or inexpensive enough that they could provide a reasonable payback period on the initial expense. But that's a story for another post...