November 8 2007
Bo Klok by IKEA (Prefab)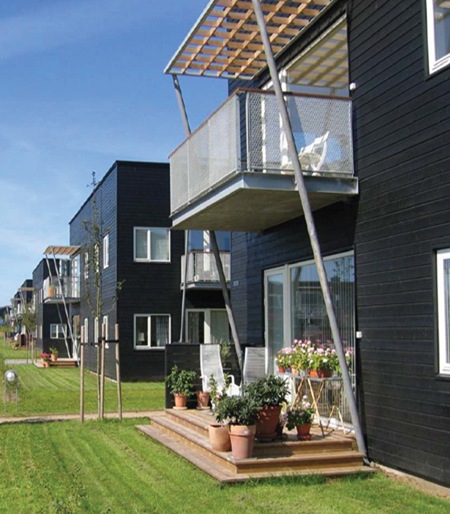 Bo Klok, which translates to ?clever living?, is a factory-built modular house design by IKEA which is currently sold in Sweden, Great Britain, Finland, Denmark, and Norway. The house is desined to be extremely affordable to allow low-income families the ability live in a clean contemporary environment similar to the lifestyle marketed through IKEA furniture. The Bo Klok comes in several different varieties which are all based on the same construction and delivery processes.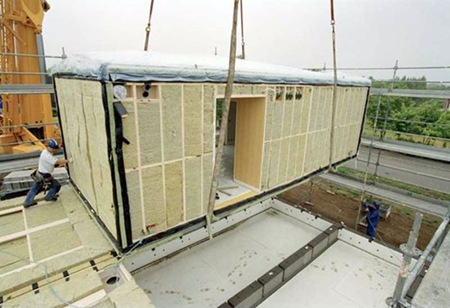 Shown here is the apartment building style of Bo Klok. The success of the Bo Klok comes from their simple design, sturdy construction, social conciousness and low cost. It is reported that 80% of the construction is done inside factories with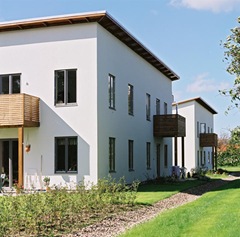 erection of the apartment buildings on site completed in one day including stacking of modules, roof installation, and installation of the electrical system. The low cost of the homes, which price in at around $14,000 for a one bedroom apartment, can be attributed to the factory-built construction system and to the material purchasing power of both IKEA and SKANSKA, a construction partner in the Bo Klok ecosystem. The apartments come in one and two bedroom versions and every apartment includes a lawn, a patio/deck, and an apple tree. The apartment also comes standard with a $500 furniture voucher to IKEA, 8?6? ceiling heights, oak flooring, appliances, hidden piping, central heating, light on three sides, choice of six wallpapers, and a free 2 hour visit by a professional interior decorator.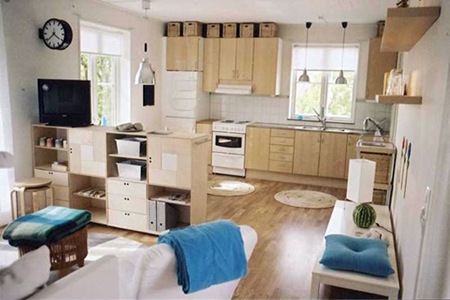 The apartments owners are selected from a waiting list and must fulfill a number of criteria based on income and family size. There are some complaints about the socialistic approach to ownership but IKEA maintains that it is necessary for the development of a stable community. Interestingly, homes once puchased cannot be sold on the open market. They must be resold back to the housing collective as a means of maintaining control over the units. It is reported that whenever a Bo Klok development is announced there is a rush for new owner applications and the waiting list is long which suggests that the concept is successful.
Bo Klok started in 1996. It is factory-built at one of five regional centers. The manufacturing process has evolved since it was started. Originally the apartments were built as panelized wall systems but the process has now evolved into production of volumetric modules that are delivered to site and then quickly assembled. It is projected that in the future the apartments will only be produced as volumtric modules and that the available product porfolio will grow.
For more information please visit the IKEA Sweden website.
svgallery=SVGallery_BoKlok