November 12 2007
Blackle.com - Saving Energy One Search at a Time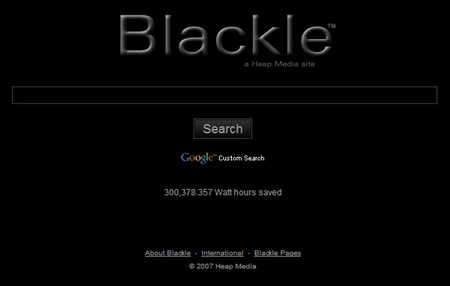 Blackle is a new graphic interface developed for Google Search designed to reduce energy by making the splash screen black with white text instead of white with black text. It was created by Heap Media as a way of showing everyone taking small steps can help reduce energy demand. Here is a description in their own words.

"Image displayed is primarily a function of the user's color settings and desktop graphics, as well as the color and size of open application windows; a given monitor requires more power to display a white (or light) screen than a black (or dark) screen." Roberson et al, 2002

In January 2007 a blog post titled Black Google Would Save 750 Megawatt-hours a Year proposed the theory that a black version of the Google search engine would save a fair bit of energy due to the popularity of the search engine. Since then there has been skepticism about the significance of the energy savings that can be achieved and the cost in terms of readability of black web pages.

We believe that there is value in the concept because even if the energy savings are small, they all add up. Secondly we feel that seeing Blackle every time we load our web browser reminds us that we need to keep taking small steps to save energy.
Blackle has also published a decent list of energy saving tips for anyone interested.
I really like the idea behind Blackle because it appears that people are really starting to take a look at how we can live with all of the new energy consumptive technologies we have created, and still tweak those to be efficient. The developments are happening rapidly as well. Solid State Drives and LED backlit screens are just a few examples of how the computer industry is pushing to extend the "battery life" of our everyday computer components.
On Greenline... it will be open to discussion whether or not we change our design to be white on black as opposed to the very white theme we are currently running.
Update: Several commenters have let me know that Blackle only uses less power than the traditional white google background on CRT monitors. The reason is that for LCDs, the backlight is always on and the LCD just hides the light by blacking out the LCD surface. So to save energy on an LCD monitor use the regular white google. For a detailed explanation of difference check out this video.
If you are still interested in doing something good for the environment check out Greenle.