March 23 2008
Big Dig House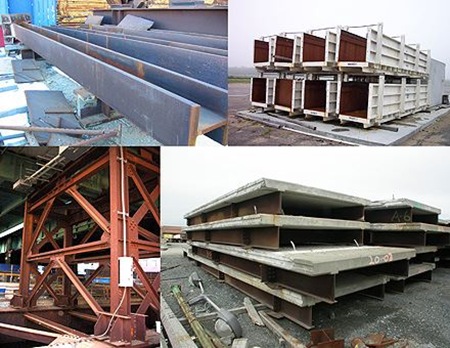 (above) Unused material from the Boston Big Dig
What does 600,000 lbs of recycled materials look like? Pretty good actually.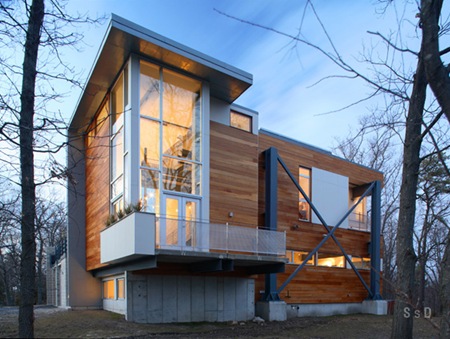 The Big Dig House by Single Speed Design (SSD) is built with unused or recycled materials from the Boston Big Dig project. All in all, a total of 600,000 lbs of  steel, concrete forms, roadway sections, and lots of precast concrete left over from the central artery expansion was used to create the home. Costs of the recycled materials (free) helped offset transportation costs and extra design fees for the atypical installation and resulted in a house costing just $150 per square foot (not including land costs). Far from being cold, industrial or infrastructure-scaled, the final design is a warm, modern structure that only occasionally reveals the massive scale of it's components.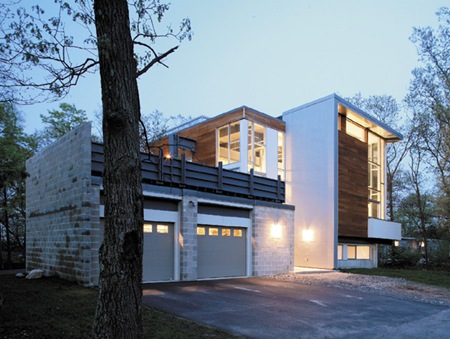 The concept of using recycled and unused transportation materials was developed by the house's owner, Paul Pedini. Pedini is himself a highway and transportation design engineer and therefore had an intimate knowledge of the basic structural components. He chose SSD Architects John Hong and Jinhee Park because he really liked the aesthetic of their office. He described their office as boxy, flat-roofed and contemporary looking, a look he wanted in his home.
''I wanted the beauty of industrial materials ... I wanted high wide spaces, wide open to each other. I wanted to let the outside in, wanted a big entertainment space. We wouldn't have to shorten the long steel sections we brought from the Artery." - Pedini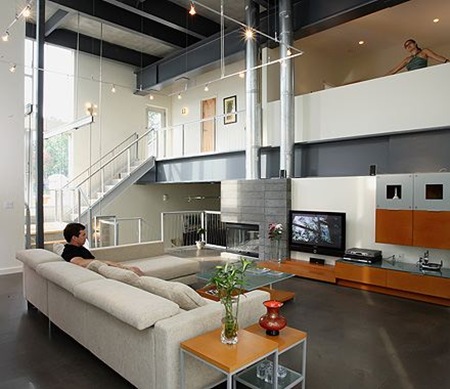 The recycled materials were given to Pedini for free except that he had to pay for transportation of the heavy materials to the house site. Besides cleaning and repainting elements of the recycled pieces, materials in the house include concrete floors, cedar panels, zinc panels, large glazed openings and concrete block. The result is a house that has lots of daylight and affords views into the adjacent woods.
I have to add that this is a very unique interpretation of sustainability. By using the recycled material, the project recaptured the embodied cultural, material and cost energy of the material. This project is not ashamed of showing us the architectural implications of recycling on a large scale, and benefits from that effort.
For more information please visit the original article at Adaptive Reuse or the Single Speed Design website.
svgallery=SVGallery_BigDigHouse