March 25 2008
Baltimore, place of Yes and Yes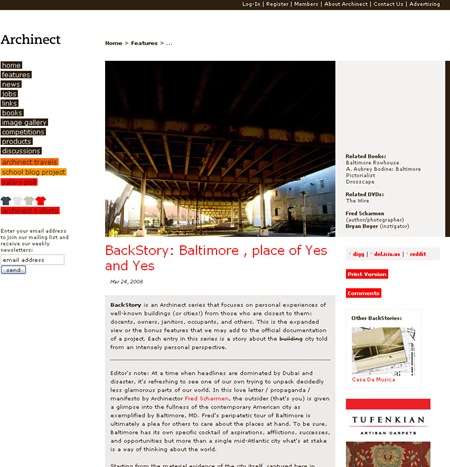 ZigerSnead's very own Fred Scharmen has a great article on Archinect! The article is titled 'Baltimore, place of Yes and Yes' and is described as a 'love letter to Baltimore.' He uses the post as a platform to present an honest and personal assessment of the city complete with its potentials and pitfalls.
The posting is actually part of a larger series of articles called 'BackStory.'
BackStory is an Archinect series that focuses on personal experiences of well-known buildings (or cities!) from those who are closest to them: docents, owners, janitors, occupants, and others. This is the expanded view or the bonus features that we may add to the official documentation of a project. Each entry in this series is a story about the building city told from an intensely personal perspective.
For more information on BackStory please visit Archinect. Or for more musings from Fred visit his website.