October 28 2007
Artificial Tornado!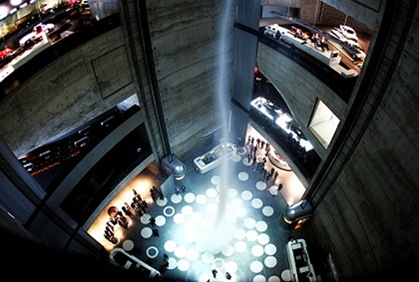 The Mecedes-Benz museum in Stuttgart, Germany, features an artificial tornado 34.4 meters high in its central lobby. The artificial tornado is so large in fact, that the Guinness Book of World Records recently recognized it as the largest in the world. What makes this artificial tornado unique, in my mind, is not that it is the largest indoor artificial tornado in the world, rather it is that the tornado serves a crucial function for the building. The building designers, having a desire for a connected multistory atrium without fire doors, created the artificial tornado to evacuate smoke from the building lobby in case of fire. Yes. The artificial tornado is a smoke evacuation system!
The tornado is generated by using 144 air jets which create a vortex in the center of the building. Carbon dioxide vapor is added to make it visible and create dramatic effect. The system is completely harmless to occupants of the building but provides a dramatic centerpiece for the lobby. Below is a video of the artificial tornado in action. The sound on the tape makes it seem as though the system is very loud and potentially distracting, but I have read that the system is rather quiet so maybe it is an amplification of the sound on the video, or perhaps that the camera was located near an air jet while filming.
The system was necessitated by the architect and client's vision of an open building plan. The building is a series of three cloverleaf shaped sloped ramps that interconnect to create a route through the building. Each walkway interacts with the central atrium so it was important not to limit the size of the openings to the cent of the building by using fire doors and similar systems as would typically be required by code. The 144 air jets can create the funnel in as little as seven minutes and start the process of evacuating air out of a central point in the roof structure.
What a great example of fluid mechanics being used to solve building code issues and create powerful architecture.
The building was designed by the Dutch architecture firm UNStudio.
Images courtesy of Spiegel.
svgallery=SVGallery_ArtificialTornado