July 9 2008
An Overview of SPeAR by ARUP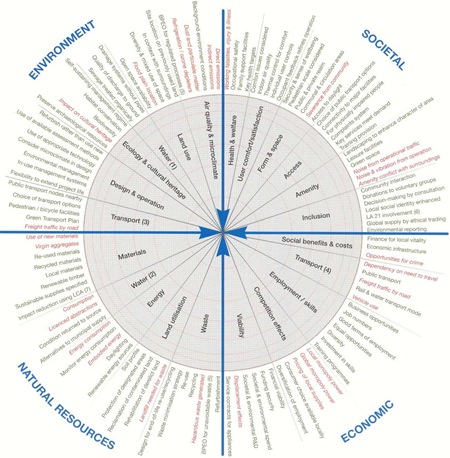 SPeAR, the Sustainable Project Appraisal Routine, is a sustainability performance evaluation tool developed by ARUP for use in their projects. The software was developed by ARUP as a way of breaking down sustainability into constituent parts so that issues could be dealt with on a discrete per instance basis rather than as a conceptual ideal. ARUP has used SPeAR on several projects including the Chongming Dongtan City development and the National Aquatics Center in Beijing. Increasingly the tool is being used to supply project planning and management guidance as well as to influence the design process toward sustainability.
The example SPeAR document above shows the basic setup of an evaluation. The four quadrant model uses Environment, Societal, Natural Resources, and Economic macro categories to gauge sustainability. Within each quadrant are a number of subcategories which are chosen to specifically represent the project being evaluated. Each subcategory is rated and the aggregate of all the subcategories gives an overall score to the quadrant. It is clear at first glance that this is a very sophisticated metric for the already established definition of the Triple Bottom Line or sustainability of Social Equity, Economics and Environment.
ARUP touts the many advantages to using SPeAR as an evaluation tool including:
Highlights strengths and weaknesses and points to future areas of opportunity
Provides management information to aid decision making
Provides auditable information for assurance and verification purposes.
Follow the links for more information on SPeAR or to the work Ove ARUP is doing in the field of environmental sustainability.