August 17 2008
Alkemi Recycled Surface Material: Sustainable to the recycled core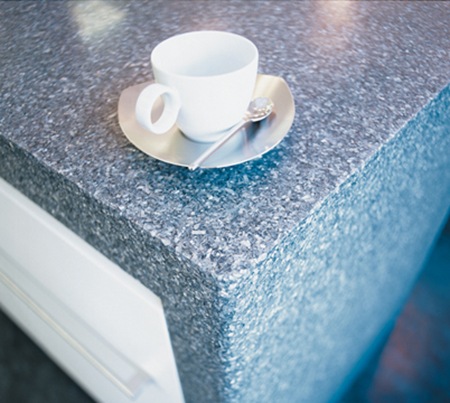 Alkemi is a recycled aluminum solid surfacing material made right here in Baltimore (Maryland). The product is composite of a polyester-based medium and post-industrial scrap waste soft-alloy aluminum flake fillers for texture. Recycled content is 35% by weight or 60% by volume as certified by Scientific Certification Systems (SCS). In addition, Alkemi's manufacturer, Renewed Materials LLC, claims that the product has no hazardous environmental footprint and can be applied to a variety of LEED credits including Recycled Content (MR 4.1/4.2), Locally Extracted Materials (MR 5.1/5.2), and Low-VOC (EQ).
The material is available in Textured, Classic and Honed finishes as well as a select number of opaque finishes. Installation of the product is similar to most other solid surface materials meaning that it can be cut and shaped using 'conventional woodworking machinery' such as saws, routers and CNC machines. The manufacturer recommends that Classic and Honed finishes can be sanded and joined seamlessly, whereas Textured must be cut and glued which leaves a small joint visible.
Alkemi is the kind of material we as designers should search out in projects. It is strikingly beautiful. It is sustainable. And it is produced locally (for those in Maryland). I argue that a product like Alkemi has a beauty, a holistic beauty, that becomes more and more meaningful as the aesthetic, manufacture, delivery, installation and recycling aspects become exposed. Can a material be considered beautiful if it leaves a wreck of the environment and local economy? I say no. It means that designers have to set sustainability goals and help material manufacturers generate the next generation of holistically beautiful building products.
For more information please visit the Alkemi website.