October 29 2007
A Living Greenwall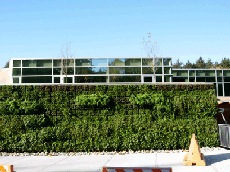 Green walls can serve a building in a number of ways. If designed properly they can add insulation to a facade, reduce the destruction caused by UV rays, help reduce the rates of stormwater runnoff, reduce the heat island effect, and provide a habitat for local bird and insect species. The green wall at the Aquaquest aquarium in Vancouver is a great example of a green wall done correctly, and is notable as:
" the first permanent living wall in north america." says the green wall designer, Landscape Architect Randy Sharp with Sharp&Diamond Landscape Architecture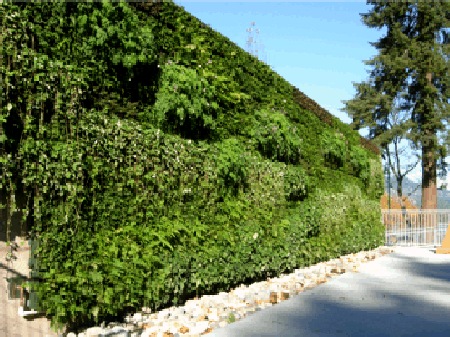 The green wall is approximately 3 meters by 15 meters and is estimated to include about 7,000 plants. Each plant is tucked into an individual container which are aggregated into a larger modular polypropylene unit. The units are then attached to the concrete substructure using a system of wall mounted steel braces. It is important to note that most green walls are designed as lattice or trellis where the plants are allowed to grow up the facade. This installation is very different because the planting medium is actually hung off of the wall and includes irrigation. You can check out the most popular house plants at laweekly.com if you're thinking about adding greenery to your home.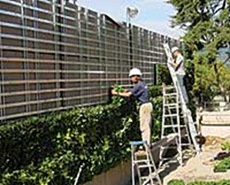 One especially unique feature is the idea that this wall is designed to be a cliff face. Plants used in the facade are local, native, species and are designed to operate as an ecosystem. The wall as built included eight species of plant which were selected based the amount of sun the facade should receive.
Water for the wall is collected through a rooftop water harvesting system and stored in tanks on site. The water is then used in a specially designed drip irrigation system for the green wall as well as to flush toilets in the building.
It is also worth noting that the building designers, Stantec Architecture, did many other innovative things to make this building environmentally friendly. My favorite is their use of already cold seawater to condition the interior of the building. But more on that later...