December 5 2007
2010 Olympic Village Using Sewage-Heat Recovery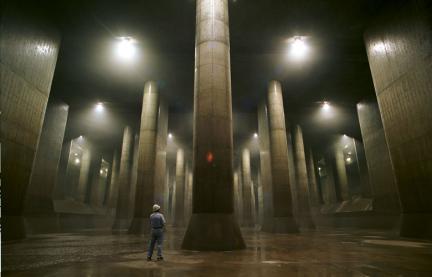 After looking at a number of alternatives, the city of Vancouver chose to follow the example set by the city of Oslo, Norway and will implement North America's first sewer heat recovery system for the 2010 winter games. It is scheduled to be completed in 2009.
An enormous amount of thermal energy is lost when the liquid effluent from wastewater treatment plants is discharged to surface water bodies. Existing sewer heat recovery technologies are available to capture this wasted energy and put it to productive use to heat and cool buildings or to provide domestic hot water. European cities set a fine example: Oslo's project taps heat from raw sewage using large machines at the end of a 984 ft (300 m) tunnel that draw heat from the sewer and transfer it to a network of hot water pipes feeding thousands of radiators and taps around the city. The heat pump, a system of compressors and condensers, produces 18 MW, enough to heat 9,000 homes. In another project, a bigger heat pump in Sweden with a 160 MW capacity obtained heat from treated sewage. In Finland, a 90 MW heating plant run on wastewater. See more at Reuters.
Like geothermal systems that use heat exchangers to extract heat from the soil, sewer heat recovery extracts heat from, well you get the picture. The ideas here are not new. Sewer-heat recovery systems use exchangers to extract the otherwise waste heat from liquid effluent and use it to generate heat for buildings or domestic hot water use. Waste heat recovery seems to have excellent potential to help reduce energy consumption.
By some estimations, it's proper implementation can reduce the thermal energy used for generating hot water by 50% and with the help of a solar thermal water heating system, just think of the possibilities. Some systems pre-heat incoming domestic water before it reaches the boiler thereby reducing the delta T and the need for much natural gas or propane augmentation.
Here's a great diagram of one type of system: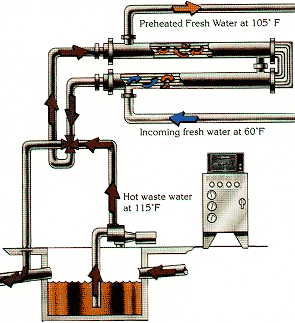 This technology has been grossly underutilized; sewer heat represents an untapped source of wasted energy.
The title image is actually a sewer in Japan...